In At No Man's Command by Melanie Milburne, notorious Aiesha Adams and aristocrat James Challender end up snowbound in the Scottish countryside. Aiesha has been hiding at James's mother's house after her latest scandal involving a married US senator when James comes to throw her out because he is supposed to spend the weekend with his girlfriend. The media declares them engaged after they get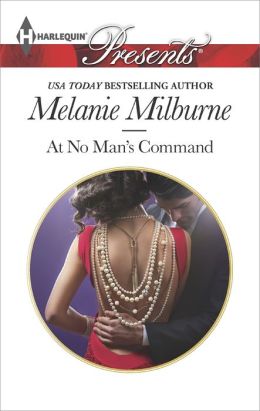 trapped together.
James and Aiesha are sworn enemies and have never seen eye to eye but with the chemistry between them going so strong, how long can they resist each other with only each other for company?
At No Man's Command by Melanie Milburne is a well written romance about how a Vegas show girl from the wrong side of the tracks gets her happy ending. Aiesha is one of the most controversial heroines I have read in a while because she is poles apart from the usual presents heroine and you will either love her or dislike her. She is strong, brazen, bold and unabashed about anything and everything. She had a troublesome past, a little part of which I believe was her fault too. James is an awesome hero and the right person for Aiesha because he knew how to handle her. He is patient, caring, kind and exercised a great amount of self-control. My only problem was with Aiesha's attitude with James at times, especially at the start when she intentionally ruins James's relationship with his girlfriend. The romance between these two seems very unlikely, especially given their past together but it works in the end.
Overall, At No Man's Command by Melanie Milburne is a well written romance with a different twist to the Cinderella theme.
Book Info:

Published June 17th 2014 by Harlequin Presents Series #3252
The shock engagement of the century!
It looks like our favorite tearaway, the notorious Aiesha Adams, is trying to change her spots. Inside sources have revealed that not only is she currently holed up in the Scottish countryside with the gorgeous aristocrat James Challender, but the pair are secretly engaged!
We've always had a soft spot for Aiesha, and with rumors of her unhappy childhood trailing her footsteps wherever she goes, we knew her wild streak hid something more. But we thought Aiesha and James were sworn enemies…perhaps when there are fireworks outside the bedroom, the sparks are just too impossible to resist!