In At the Edge (Alpha Crew #1) by Laura Griffin, Emma survives a terrifying event when the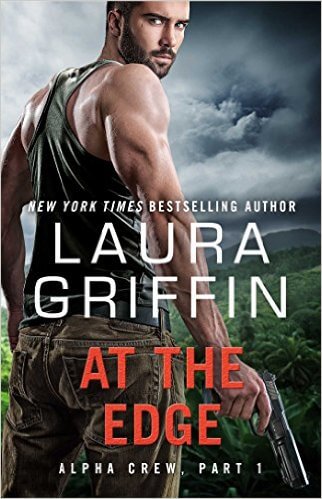 plane she is in crashes, only to be stranded in the jungle in the Philippines. The Alpha Crew, led by Ryan, is sent in to find the plane and any survivors, their mission is to get Emma home safely. Spending a short time together does not make the attraction between Emma and Ryan any less real, but it can go no where. Once Emma is home safely, Ryan thinks of her but doesn't expect to see her again.
The danger has only just begun though, because Emma is seeking answers about the plane crash…answers some one doesn't want her to find. Emma seeks out Ryan hoping for some answers from him. What she finds is a chemistry that sizzles, unknown danger, and an alpha who wants her just as much as she wants him.
I really enjoyed this first part of the Alpha Crew and am so relieved that the next part will be published very shortly. Laura gave me an adrenaline rush with non stop action, fear, the unknown, and suspense with romance perfectly woven in. I never knew what was going to happen and couldn't put At the Edge down!
Emma and Ryan make a great heroine and hero. Emma is brave and determined despite her fears. I liked what she was doing and why, even if it was scary! Ryan is a total alpha, protective, and intent on getting the job done. Emma and Ryan came together quickly and it worked well in this story. It felt like the time was right and they were the right people to be together.
Laura Griffin puts together an intense first part of the Alpha Crew books in At the Edge. With a novella length, I never felt that the story was rushed. Be aware that this is only the beginning though, so there is a cliff hanger, and the story will continue in Edge of Surrender to be released very soon!


In Edge of Surrender (Alpha Crew #2) by Laura Griffin, the supenseful plot picks up where At the Edge left off and flows very well from one book to the next.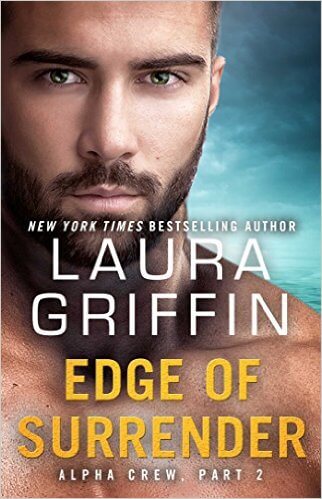 The relationship between Emma and Ryan worked well with the dominant suspenseful plot. I like how Laura Griffin did this. I liked the edgy feel of danger closing in but at the same time the feeling of a hope for the future. The mix of romance and suspense really wowed me as did these two strong main characters as they learn to trust each other and their feelings. As the tension picked up, I could not figure out the who and the why of the mystery and could only hope that Emma could survive to have a future.
This series is entrancing, and the characters are powerful. I felt like I got to know them as the plot progressed, and I liked them both.
I'd highly recommend both At the Edge and Edge of Surrender (read At the Edge before Edge of Surrender!) to any romantic suspense reader.


Book Info:

Publication: March 7th 2016 by Pocket Star and March 28th 2016 by Pocket Star
At the Edge:
Dive into Part One of this heart-pounding romantic suspense story, which continues in Edge of Surrender: Alpha Crew Part Two!
When Emma Wright's government plane goes down over the Philippine jungle, she's forced to survive alone until an ultra-elite SEAL team goes in after her. As the leader of Alpha Crew, Ryan Owen is no stranger to challenges, but he's never tackled anything quite like this sexy, smart, and resourceful woman. The mission is to get Emma home safely, but danger is everywhere, and Ryan's unexpected desire for Emma could be a deadly distraction.
Back home in California, Ryan's mission is over—but Emma's has just begun. She knows her plane crash was no accident, and she's determined to uncover the truth about what happened—even if her quest for answers puts her at risk. Torn between duty and desire, Ryan searches for a way win Emma's heart while protecting her from an invisible enemy who wants her dead.
The thrilling conclusion to this Alpha Crew romance is just weeks away!
Edge of Surrender:
The scorching-hot romance between Emma and Ryan that began in At the Edge: Alpha Crew Part One concludes in Part Two of this sexy, suspenseful adventure!
Ryan had one job: keep Emma safe at all costs. But after a night of passion, Emma takes off and Ryan soon realizes he's not the only one looking for her. Can he figure out who's after the beautiful government aide, and why, before she falls into the wrong hands… if she hasn't already?
Emma's fighting to get justice for her fallen comrades, but she can't do it alone. She needs Ryan's help, but that means trusting him–and dealing with the out-of-control desire blazing between them. Can there be any future for a marked woman and a man trained to kill? She hopes they live long enough to find out…
Don't get spoiled! Be sure to read At the Edge: Alpha Crew Part One before devouring this sizzling romance!