The combination of culinary art and romance creates Bachelor's Special by Christine Warner. A tantalizing prologue draws the reader into this entertaining romance with characters that are likeable, fun and real. This is a cute and sexy read that kept me engaged from beginning to end.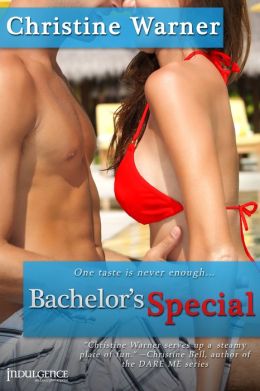 Spunky and focused Jill Adgate dreams of being a chef. She has done everything right and her dream is becoming more of a reality with each passing day, until the she nervously smashes a birthday cake into a gorgeous male client, sobs, and shares a passionate kiss with the aforementioned client, Chet Castle. Needless to say, she is fired and her reputation is destroyed. Jill's future, both personally and professionally, is in limbo.
Chet Castle is good-looking, wealthy and honest. As a successful businessman, he goes out of his way to help others both financially and personally. His non-existent love-life is a thorn in his families' side. They desperately want him to fall in love and settle down. Due to a prior relationship, Chet has major trust issues and has sworn himself to a life of good times without any commitment.
Jill and Chet meet again on a blind date a year after their wanton kiss. With knowing only her name, Chet has Jill investigated prior to the date and believes she is after his money. Jill just hopes he doesn't recognize her, since she was covered in head to toe chef gear at the time of the cake smashing. Luckily, they get to know each other and Chet ends up offering Jill a job as his personal chef and caterer. Chet's initial goal is to get Jill into the sack, and then help her get her catering business off the ground. However, living together and spending time with each other leads to a steamy rendezvous in the pool. From that point on, they are hooked.
Knowing that mixing business and pleasure is not a good idea, they are constantly fighting their true feelings and attempting to remain in the friend zone, which is not working. Once they both let their guards down and communicate with each other, the future is theirs for the taking.
Book Info
Publisher: Entangled: Indulgence (June 10, 2013)
Jill Adgate wants three things from life: a successful catering business, a family, and the love of an exceptional man. What she has is no job, a mounting pile of bills, and her outspoken best friend—who sets her up on a blind date with the man who inadvertently ruined Jill's life.
Chet Castle is a businessman who has everything, except the ability to trust. Burned by a money-hungry fiancée, he refuses to get involved in any relationship that has a shelf life longer than a head of lettuce.
Intrigued by her ambition—and determined to get her in bed—Chet offers Jill the chance of a lifetime: work as his live-in chef and he'll help her get her catering business off the ground. When sparks fly in the kitchen, Jill realizes what's cooking is a recipe for disaster…