Back Check by Kelly Jamieson, the forth book in the Aces series, finds Tanner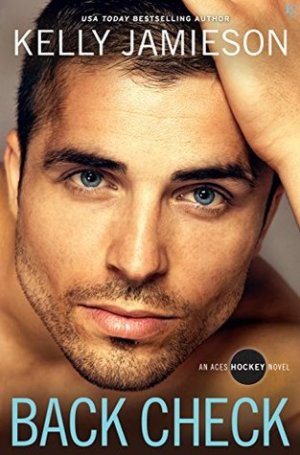 Bennet being recruited to be in his captain, Marc's, wedding. When Marc and his fiancé hire a new wedding planner, Tanner is shocked to discover it's his college ex-girlfriend, Katelyn Medford. Their breakup hadn't been friendly: Tanner had signed with a team in New York but she refused to go with him. He was hurt, feeling like she was just afraid to leave home and be with him, and Katelyn was hurt that he left, even knowing that he had to go. Reunited, he discovers why she really couldn't leave, but now with the trade deadline looming and no progress being made on a new contract, he may have to leave the love of his life again.
I liked both Katelyn and Tanner, although Katelyn's flip-flopping on what happened with Tanner was a bit confusing. She knew he had to leave, but would then make it seem like he had a choice and chose to leave instead of staying.
==Tanner had been the same, had expected her to drop everything in her life for him.==
He hadn't expected her to drop everything; he wasn't that type of man. If Tanner had known the truth as to why she couldn't have left, perhaps they could have tried to find a way to work things out. Instead she kept her father's secret and let Tanner leave thinking that she just didn't care enough to go with him.
Tanner has his own issues; the main one is that he's worried about being traded. The rumors are growing louder and louder that the team can't afford to keep him, especially after resigning one of his teammates. He wants to reconnect with Katelyn but struggles with the knowledge that he may not be in town much longer. After the last time he asked her to leave with him, he's afraid to ask again, and he doesn't want to pull her away from the new event planning business she's started. Katelyn knows the chances of him leaving are high, but this time she's determined not to lose him again.
While it's not necessary to have read the prior books before reading this one, it would be helpful to understand the couples and their relationships, as well as the teammates relationships with one another. We get to catch up with other members of the Aces and their significant others. I really liked how the women embraced Katelyn and kept finding ways to throw business her way. Lovey, not knowing the history between Katelyn and Tanner at first, even tried to play matchmaker for the pair.
With Back Check, Kelly Jamieson has created a wonderful second chance story. Her hockey series is one of the best out there, and I recommend giving it a try.

Book Info:

Publication: January 10, 2016 | Loveswept | Aces Hockey #4
Tanner Bennet hates weddings. They just remind him that he simply isn't cut out for any kind of healthy, committed relationship—never has been, never will be. After getting rejected by the girl he thought was "the one" all those years ago, he made a huge mistake and married the wrong person. Now that the divorced heartbreaker has reluctantly agreed to be a groomsman for one of his NHL teammates, the last thing he expects is a chance at redemption with the one that got away.
After Marc Dupuis of the Chicago Aces hires wedding planner Katelyn Medford, she discovers that her big break comes with a twist: a reunion with her college sweetheart. The way she dumped Tanner still haunts her. Eight years—and three broken engagements—later, Katelyn knows she'll never have that kind of innocent, wide-eyed passion again. Still, she and Tanner soon generate enough body heat to burn up the sheets. And even with Tanner's career with the Aces up in the air, Katelyn's wondering whether the time is right to let him in for real.