In The Midwife's Pregnancy Miracle (Christmas Miracles in Maternity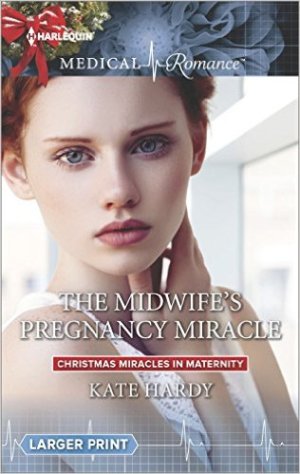 #2) by Kate Hardy, Oliver Darrington has had a woman declare he was the father of her baby before, so how can he trust that Ella O'Brien is telling him the truth. Still, since he started working with her, he's never known her to be anything other than sweet and genuine, so how can he not give her the benefit of the doubt. Will becoming a father give him a chance at the kind of family he wishes he had instead of continually feeling like the black sheep of his family?
This time he was exercising his rights, and he was going to have choices. "It's my baby too, Ella. So that means I get a say. In everything."
"I never pegged you as an overbearing bully," she said, "but you're behaving like one now. I'm telling you about the baby purely out of courtesy, and I know you're not interested in being with me so I don't expect anything from you. And now, if you'll excuse me, I've already told you I'm off duty and I want to go home. Goodnight."
What an engrossing read Ms. Hardy has penned in this medical romance, which encompasses the surprise pregnancy, friends to lovers and opposites attract tropes. Right from the beginning, the prologue starts this story off really well and sets the fast-pace of this story. Due to the heroine not being a big fan of parties and finding herself attending one of the biggest events of her work social calendar. Something that is a little daunting for her and I found it was impossible not to be drawn into this story by all that she was feeling. Will she enjoy or embarrass herself? Will she know anyone at the event, so she doesn't have to fly solo?
The dialogue was entertaining due to the main characters back stories, what happens to Ella to help her overcome her fears in achieving happy ever after with Oliver and everything that happens while both Ella and Oliver are on duty. A maternity ward can be very busy and complications do arise. Can Ella deal with the problems that arise for a pregnant woman, especially when she's witnesses such things first hand on the ward where she works? Then there's Oliver's parents, especially his mother who is a real witch. How is Ella supposed to handle the fact that she and Oliver are so completely opposite when she was already struggling with letting him into her life?
Both Ella and Oliver were wonderful characters, but the heroine did frustrate me at times. She's achieved so much throughout her life and doesn't want to lose her independence, so the unkind way she sometimes treated Oliver was understandable. Because at times, it felt like he was trying to take charge of her when it came to her professional life, but at the same time, I felt she was being unfair. Indeed, she needed to compromise and find a solution that worked for her instead of being so stubborn. Because their baby was definitely a miracle baby and should have the chance to get to know his or her father. Even if it did contradict with what he'd told her about him and relationships and certainly not after what his ex-girlfriend did to him with her lies.
While Oliver, he's hard-working, smart, and he was a really enjoyable character because of everything he's achieved by going against what his parents wanted for him. He's also kind and caring when it comes to his work as a doctor in the maternity ward where he and Ella work. He goes above and beyond for his patients with his calm, open and honest personality. Certainly, he and Ella have a lot of obstacles to overcome including the hero's parents treatment of Ella, Oliver's stance on relationships and whether Ella is willing to accept that Oliver doesn't want her to be dependent on him. He accepts her for the strong, independent woman she is.
"I fell for you months ago."
"But you never said anything."
"I thought I was out of your league," she said. "The hospital rumour mill said you only ever dated supermodels."
He laughed. "Hardly. Anyway, you could hold your own against a supermodel."
"I'm too short and too curvy," she said.
"No way. You're beautiful," he said.
Overall, this was a really good novel that proves miracles do happen and that no one should let their fears get the better of them. Furthermore, Ella and Oliver have such strong chemistry that it was hard not to be affected by their emotions and reactions to the obstacles they face. The way this story ended brought tears to my eyes with what happens to Ella, but I was glad that she finally found she could trust Oliver because it's palpable how much they love each other. I would recommend The Midwife's Pregnancy Miracle by Kate Hardy, if you enjoy the surprise pregnancy, friends to lovers or opposites attract tropes.

Book Info:

Publication: October 18th, 2016 | Harlequin Medicals | Christmas Miracles in Maternity #2
Their precious Christmas surprise…
Midwife Ella O'Brien loves babies, but she believes she can't have her own. Until at a charity ball the chemistry between her and dashing obstetrician Oliver Darrington explodes into a night of passion that proves her wrong!
Aristocratic Oliver has been here before, but the baby wasn't his! Now he's guarding his emotions—even from lovely, innocent Ella. Can the baby they both want so much help them to trust in their love this Christmas…and become the family they really long for?