Back in Her Husband's Bed by Andrea Laurence: Professional poker player Annie "the barracuda" Baracas came to Vegas to play in a poker tournament, not to run into her almost ex-husband, Sapphire Hotel and Casino owner, Nathan Reed. She's been trying to get him to sign divorce papers for three years with no success. So when Nate presents Annie with a proposition to help him catch a ring of cheaters in exchange for his signature on the dotted line, Annie can't help but agree.
'I can give you the one thing you've wanted for the last three years–a divorce.'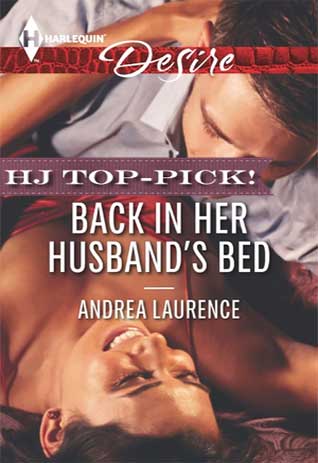 The catch is that they have to appear as if they've reconciled publicly so that no one is suspicious of them spending so much time together. It doesn't take long for Annie to realize that the sexual chemistry between them is still strong enough to make her forget her commitment-phobic ways.
"The sexual spark had always been there; it was what brought them together. It just couldn't keep them together."
Nathan Reed promised himself that he wouldn't fall for his soon to be ex wife again, but the more time he spends with Annie, the more he glimpses what life could have been like if she hadn't walked out on him three years ago. There's no denying the chemistry they share, and soon they're a real couple behind closed doors as well as in public. But once the thieves are caught and the tournament is over, how will Nate convince Annie that their marriage is worth taking another gamble?
Back in her Husband's Bed by Andrea Laurence is a great reunion story that puts a nice twist on a pretend relationship. The fact that Annie and Nate have a history together makes their whirlwind romance more plausible.Annie and Nathan are characters whose flaws conspire to keep them apart even while love is trying to put them back together. The mistakes of the past play a big part in keeping the relationship from working, and the plot does a great job of adding present day problems to the mix just when it seems the old problems are being solved. The conflicts are strong enough to have driven them apart and to impede a swift journey to a happily ever after, but completely surmountable if Nathan and Annie want to work them out.
I loved how Ms. Laurence uses the back drop of Vegas and high stakes poker to tell the story of two people whose pasts make it difficult for them to take the ultimate gamble on each other. Laurence's voice made the dialogue snap and the sexy times sizzle. She crafts a story that has enough mystery woven in to keep you guessing and gives the reader a satisfying payoff in the dramatic climax. I LOVED the way that she ended the book (but I'm no snitch, so I can't say WHAT I love); it wrapped things up rather nicely and allowed me to believe this happily ever after just might stick.
I would recommend Back in her Husband's Bed to anyone looking for a sexy story of two former lovers reunited by necessity who work together to catch a cheating ring and catch each other in the process. You don't have to know anything about poker to enjoy this gamble! (OK, fine; I will make no more bad puns about gambling and love).
Book Info:

Published February 4th 2014 by Harlequin Desire (Book 2284)
She can finally have the one thing she wants. All she has to do is play the happy wife…and not fall in love with her husband.
It's been three years since Annie Baracas left her husband, Vegas casino owner Nathan Reed, and he still hasn't signed the divorce papers. So when Nate finally offers to set her free, Annie will agree to any terms. Even if that means temporarily resuming her role as his wife to help him catch a thief. But what starts as a public display quickly turns very private. And Annie can't help wondering what it might be like to stay in Nate's bed…for as long as they both shall live.