Crazy, Stupid Sex by Maisey Yates: Evie James isn't really trying to pick up a guy. Okay, she is, but not in the way you think. She doesn't want to 'seal the deal', she's just looking to get guys interested. Testing an app she's writing for Flirt magazine that would supposedly help to land you a guy. However, it wasn't working for her.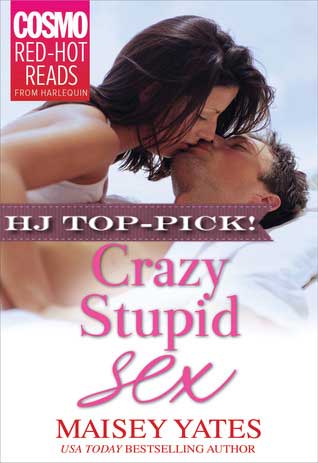 Caleb Anderson noticed her right off the bat. Well, he noticed her rack – and the fact that she was totally awkward. The guys she was talking to were drifting away because she was brutally honest and she kept checking her phone to see what to do next. It'd be painful to watch except she seemed to be oblivious.
When Caleb intercepted her she couldn't have been more irritated. She was trying to work this normal guy, but he was getting in the way. Although, once he pointed out her intended mark was actually staring at a blonde across the room, Evie saw his point. He managed to get her to tell him about the app, and then he proceeded to be douchey and charming at the same time. Infuriating.
Neither one of them expected the night to turn into a one-night-stand between them. After all, Evie hadn't gone there with the intention of going home with someone, and Caleb hadn't intended on taking someone like her home. They definitely didn't expect the sex to blow their minds. They parted ways long before the sun rose, and that was supposed to be that.
Evie hadn't counted on the connection between Flirt magazine and her mind-blowing hot-guy sex. And Caleb definitely hadn't expected to be thinking about Evie after that night. He didn't do serious… like, ever. But he really, really, and he meant really – wanted more. He managed to wrangle his way back into her world, but she didn't make it easy for him. He was on her turf now, and things were going to get complicated.
So… wow. I told Maisey that this book was so hawt that I had to turn on my oscillating fan. I wasn't kidding. Evie had been with a milquetoast guy for most of her life, and Caleb was the cure for all that she'd missed in the sex department. Her other boyfriend was a douche, and even though Caleb acted douchey (as he was called many times in the story) he just wasn't. He was direct and blunt, the same as Evie. He was also a guy, and careless – but also hurting and wounded.
Caleb said a lot of stuff that was hurtful towards Evie, but I got it. It was his shell. He felt like he didn't deserve anything. I wanted to hold him and let him know it'd be alright. Man, Maisey can really write guys like that. And Evie was amazeballs. A great mostly-nerd girl – kinda after my own heart. She and I do similar things, although I've never been in Forbes and I don't have enough money to buy more than ramen most days.
An amazing story. My first Cosmo book, and I just loved it. Kudos Maisey, and yay for powerful nerd girls!
Book Info:

Publication: February 1st 2014 by Cosmo Red Hot Reads from Harlequin
How to Land the Hot Guy 1.0
A multimillionaire by the age of 27, app developer Evie James is clueless when it comes to hooking up. So she does what any self-respecting geek-girl looking to get laid would do: she programs her own app for landing a hot guy. After a few failed attempts at making contact, beta testing leads her to Caleb Anderson.
Caleb is used to female attention, but finds himself attracted to Evie because of her unique brand of awkward. A master of one-night stands, he's more than happy to show her what she's been missing in the bedroom. But he quickly discovers that one night with a woman like Evie will never be enough for him.