In Shoreline Drive, Lily Everett takes us back to Sanctuary Island. Merry and her sister Ella came to Sanctuary Island to reconnect with the mother they've been estranged from for years. Merry is very pregnant and staying with her mother, helping with the plans for a therapeutic riding center on her property on Sanctuary Island.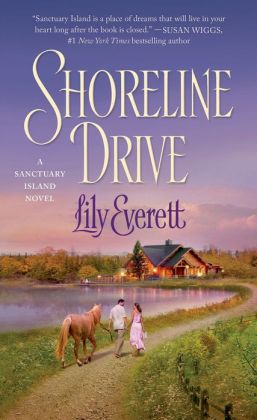 Ben is the vet on the island – large and small animals although he'd prefer only large animals! He has been drawn to Merry from their first meeting, but hides it well behind his rough, brash exterior. He hides it well enough that Merry doesn't think he even likes her. Ben tries to stay away from Merry…his past has hurt too much to become involved with anyone. When Ben ends up being the one to deliver Merry's baby on a stormy night, he is drawn even deeper to Merry and her new baby than he thinks he wants to be.
Ben doesn't want love or a happily ever after. For him it's not in the cards anymore. Merry thinks Ben is pretty hot despite his gruff manner and the fact that he's pretending to not care…but Merry is not only a new mother finding her way, but her past relationships have made her mistrust herself and her judgment when it comes to men. She is terrified of failing. When Ben proposes a marriage of convenience that will benefit them both, Merry surprises herself and Ben by saying yes.
It is not as simple as it sounds though, they are both hiding feelings, Ben is hiding a large part of himself and his past, and even a marriage of convenience has to start off with honesty. Can Merry and Ben make it work? When both of them start to feel more than either of them intended to, can they get past the fear of failure and loss?
Lily takes time to develop the characters of Ben and Merry so that you really feel like you know them. They are fun, easy people to like too! Merry might be young, but she is very mature and genuine. I found Ben to be really lovable too, Lily's descriptions of him and his mannerisms really brought him into my heart…all the things Merry didn't know we were reading about and these things helped me as a reader get to know him and really like him. Ben is really holding back and cares more than he thinks he wants to…at times your heart will ache for him and at times you will be frustrated with him, like in any real relationship!
We saw some of the secondary characters from Sanctuary Island (book 1), but the main secondary character is Merry's mother. I would really like to see her character expanded and to learn more about her. I felt like I was missing a little bit because she did play a significant role in Shoreline Drive, but she was not a fully developed character. I am hopeful if there are more books in this series her story will be told, it really needs to be! I do think you should read Sanctuary Island also to get a better background on the over all plot!
Lily gives us a well paced romance about love, forgiveness and second chances in Shoreline Drive. The chemistry is certainly there between Ben and Merry, but Shoreline Drive is not explicit in the least which works really well with the story line and makes Shoreline Drive a romance that anyone will enjoy and be comfortable reading!
Book Info:

Published January 28th 2014 by St. Martin's Paperbacks
Dr. Ben Faulkner is a veterinarian on warm, welcoming Sanctuary Island, a tiny refuge for wild horses tucked off the Atlantic coast. Though he's dedicated his life to healing animals and rescuing the ones no one wants, Ben is nursing deep wounds of his own. After tragedy tore his family apart, he gave up his dreams of finding happiness long ago…until Merry Preston arrives on the island. Vivacious, friendly, and instantly loveable, Merry is everything Ben is not. She's also nine months pregnant and attempting to carve out a new life for herself and her unborn child.
Though Ben tries to keep his distance, when a raging storm cuts them off from the mainland, he's forced to help bring her new baby into the world. It's a harrowing experience that leaves him with one great certainty: I want these two to be my family. Seeing his opportunity, he makes a dramatic proposal to the young mother: a marriage of convenience. If Merry marries him, he'll draw up a contract naming her son as his heir and promising to provide for them both. But as they'll learn, love is more than a business proposition…and it'll take all the magic hidden in Sanctuary Island to turn Ben's proposal into something real and lasting.