Back in the Texan's Bed by Naima Simone: Back in the Texan's Bed by Naima Simone is the first story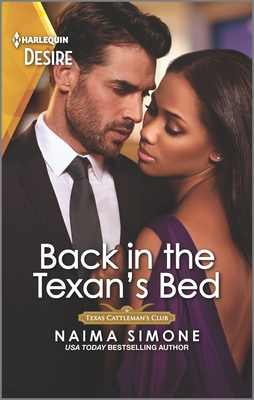 in the Texas Cattleman's Club: Heir Apparent series. It's a secret baby trope romance with a couple who get their second chance to try again.
When Charlotte Jarrett left Royal, she left behind her parents, her job as a chef for the Edmond family, and her lover Ross Edmond. But she carried a secret – a baby that she raised on her own as Ross and his father Rusty indicated they wanted nothing to do with it. 3 years later, Charlotte returns, hoping to restart a relationship with her parents so they can get to know their grandson Ben and getting a job as a chef at Sheen, a high end restaurant owned by a black woman and run and staffed all by women.
When Ross discovers that Charlotte is back in town, he's still nursing the betrayal of her leaving him. And finding out he has a son (that he insists he never knew about, despite what Charlotte believed) has him determined to be a full time father. Can Charlotte and Ross get over their past and find a way to a happy ever after?
I always enjoy Naima Simone's romances and this is another for the keeper shelf! Charlotte and Ross's history is complicated with her having worked for his family, their secret affair at the time, Rusty's deviant antics and of course, the fact that Charlotte has a baby and that Ross is the father. That certainly fits the bill of a story full of passion, drama and intrigue! While secret baby books aren't my go-to trope, in this author's hands I'm willing to try anything and I'm definitely pleased with how this one all turned out.
Ross and Charlotte have a lot to overcome on the road to their happy ending and it starts with understanding their past, not being afraid of sharing their feelings and learning to trust again. I loved seeing Ross open his heart up to his son Ben. Even while he guards his feelings from Charlotte in an effort not to be hurt again (and the same can be said for Charlotte) he is clear in his affection for his son and his desire to be a good father. The sexual chemistry between Ross and Charlotte leads to some steamy scenes, and Ross is determined that both Charlotte and Ben will play a big part in his life from now on. Charlotte has kept some other secrets that she needs to share before she and Ross can move forward but when that happens, it gets them on the right path. The ending is sweet and satisfying. Naima Simone brings the heat and the drama to her latest story, and I look forward to reading more in this series!
Book Info:

Publication: Feb 01, 2021 | Harlequin Desire | Texas Cattleman's Club: Heir Apparent #1
Will they ever learn…
that giving in to desire is playing with fire?After discovering he has a secret son, oil heir Ross Edmond isn't letting Charlotte Jarrett walk away again. He proposes they move in together—to share their son…and a bed. But Charlotte has secrets, and Ross doesn't know the real reason his family's former chef left town three years ago—and they still have a powerful enemy who could bring them both down…