In Back to Your Love (Brothers of Theta Delta Theta #1) by Kianna Alexander, Since graduating college several years ago, Xavier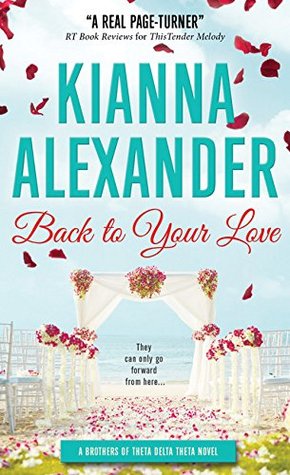 Whitted has started his own accounting business and now has plans to join the Raleigh city council. One thing that hasn't changed is his attraction to Imani Grant, which is evident when they see each other for the first time in almost a decade at their shared friends' wedding. Xavier thinks the time is right to try again with Imani, his former high school sweetheart, and see if they can manage a successful relationship this time. He's more than willing to take things slow, but he feels like there's something she's holding back from him. But with his campaign in full swing, Xavier has to decide if what Imani's hiding could be detrimental to his career or if they can overcome the challenges they face.
'There were so many things about Imani that he didn't understand. As much as he cared for her, he knew he was going to need some clarity before things with her progressed.'
Although Imani is still very much attracted to Xavier and thinks he's proven himself to be a trustworthy man, she can't help but recall how he broke her heart right as she was leaving for college years ago. With everyone urging her to give him a fair chance, she agrees to start dating again. The sparks are still there, that's for sure. But a secret in Imani's past is forever hanging over her head and she doesn't know how Xavier will take the news when she tells him. Putting her confession off isn't the right thing to do. She knows that. But with things going so well between them and in his run for election, Imani lets things slide, not knowing that once the truth is out, it may have the power to change both of their lives dramatically.
'His good guy ways were precisely the problem when it came to becoming involved with him. Xavier was far too good for her; Imani knew that, but he didn't.'
Back to Your Love was a tender second chance romance by a 'new-to-me' author, Kianna Alexander. Southern charm was abundant, and our main characters' complicated pasts and lingering feelings created issues, but their HEA was worth every moment leading up to it.
'She was the missing piece of the puzzle.
In order for him to be truly happy and at his best, he needed Imani by his side.'
I really had a good time with Back to Your Love, which is the first book in a new series based around a group of men in the Theta Delta Theta fraternity. It was a great bunch of characters, each so unique and who had their own distinct personality, but they all meshed well together and kept things lively. One thing that I loved was how author Kianna Alexander was able to point out the positive aspects of college fraternities, the brotherhood and the support system they can be to one another. Typically fraternities are shown as guys who just want to party and pull pranks. Granted, Xavier and his fellow alums were around thirty years old or so now and I'm sure they did party at one time, but their fraternity's mission was to help others in the community, which was commendable.
Second chance romance is one of my favorite tropes so Imani and Xavier's story worked well for me in that regard. I thought they were both very honorable, caring individuals who worked hard and wanted to do right by those around them. They were each loyal to their family and friends. Neither of them necessarily had an easy time of things growing up or into their adult lives but they kept striving to do better. And I loved that there was still so much true depth of feeling between them in addition to the attraction.
My only issue was with the secret Imani kept hidden for, in my opinion, too long. I felt like she should have given Xavier a heads up so he could do potential damage control in his bid for city council. And it also seemed like Xavier didn't give Imani the benefit of the doubt or take into consideration what she gone through before pushing her aside. Other than that, they had a slow burn, but solid relationship they successfully built over again from scratch.
If you're a fan of passionate, modern love stories that have a family-driven, true to your roots feel to them, Back to Your Love will do nicely. Things are off to a pleasant start for this series and I think readers will look forward to seeing which alumni will get his story next.

Book Info:

Publication: Published April 4th 2017 | Sourcebooks Casablanca | Brothers of Theta Delta Theta #1
First in a mainstream contemporary romance series featuring successful, tight-knit former fraternity brothers from Kianna Alexander.
What would you give for a second chance?
Xavier Whitted has a lot on his plate. As a hardworking businessman, mentor to troubled teens, and aspiring politician in his Southern hometown, the daily demands never let up. A weekend at the beach for his best friend's wedding is exactly what he needs. What he doesn't need is to run into the woman who broke his heart ten years ago.
Imani Grant is more beautiful, confident and intelligent than ever, and their connection is still sizzling. But Imani harbors a secret that could destroy both their blossoming careers. She knows she has to keep her distance, but Xavier is determined to win back her heart–consequences be damned.
"A page-turner." –RT Book Reviews for This Tender Melody