In Angel of Darkness by Lynne Graham, Kelda Wyatt and Angelo Rosetti have been enemies from the moment their parents became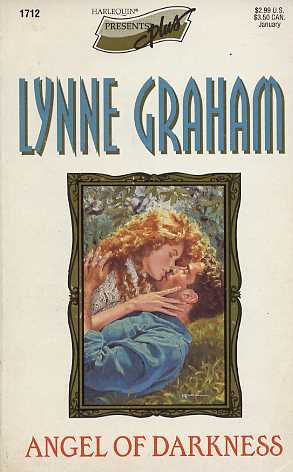 involved with each other and even after the marriage fell apart. But now, years later, her mother and his father have reconciled and Angelo isn't about to let the only person standing in their way ruin their second chance at love. Kidnapping Kelda is the best idea Angelo can come up with, and unfortunately there's no possible chance for her escape. Still, neither imagined they'd fall in love with the enemy when Angelo put his plan into action. Will he be able to convince Kelda to give him a chance at forever love, or will the past and their dislike for each other keep them apart?
"Are you threatening me?"
"Surprised?" Angelo sank down with innate grace into a wing-backed armchair and surveyed her with total cool. "I have no intention of allowing you to come between my father and your mother a second time…"
Her tongue snaked out to wet her dry lips. "A second time?"
"You put considerable stress on their relationship six years ago—"
Many of the revenge trope encompassing stories I've read by Ms. Graham have been captivating reads and this story was no different. Truly, and the way this story started had me feeling sorry for the heroine, because her mom has been keeping a secret from her when they've never ever kept anything from each other before. However, it was from the moment that the hero and heroine came face-to-face for the first time in years that made things very interesting, as Angelo is determined to do everything in his power to keep Kelda from ruining any chance their parents have at finding happiness again. And since he's a powerful man, it's easily done.
As for the dialogue, it was intense due to the main characters back stories and the reason these two dislike each other so much. Angelo believes Kelda did something that hurt his relationship with his father, and there's no way he can forgive her, especially when he already had mixed feelings about her when they first met. Moreover, I loved how this story is thick with tension and angst, because of the hero's ruthlessness and the heroine's determination to not give in to him.
"Without your assistance tonight, I don't think I ever would have realized how desperately insecure you are," Angelo drawled. She froze as though he had slapped her. "Does sniping at me make you feel any better?"
He hadn't answered her questions. She threw up her head in open challenge. "As a matter of fact, it does."
"I think you should go to bed." Angelo rose gracefully from his chair. "This conversation ends here."
Both the main characters were fascinating due to their history, their back stories and their growing relationship. There are so many obstacles that they have to overcome, especially the secrets and lies that one of the main characters or the secondary characters are determined to keep or tell. Moreover, the heroine is strong and brave with everything she's gone through due to an ex that lied to her, what happened to her in the past that made Angelo loathe her, and what she faces in her battle with Angelo. While the hero, he's done well for himself, considering what happened to him in the past. He's ruthless, confident and has the ability to make the heroine's life difficult with the effort he goes to in order to make things right for his father. He puts the heroine through a lot, but she has the courage to stand up to him and offer quite a challenge.
Overall, Ms. Graham has delivered a really good read in this book where the sexual tension between these two increased with every interaction and the romance was explosive due to them being enemies. The way this story ended had me feeling sorry for the heroine due to what happens to her, because she's under a lot of pressure from her mother and Angelo. Will Angelo be able to convince the heroine that he loves her once and for all? I would recommend Angel of Darkness by Lynne Graham, if you enjoy the enemy to lovers trope, the revenge trope or books by authors Susan Napier, Sara Craven or Carole Mortimer.

Book Info:

Publication: December 1st, 1994 | Harlequin Presents |
The days of your innocence are long gone.
She didn't get very far before a powerful hand closed over one slim shoulder and yanked her back. He spun her round with frightening strength.
Look at me! He demanded with inborn arrogance, glittering dark eyes scanning her pale, distraught face. Your freedom is gone and not only for now, cara. It's gone for as for as long as I want. I will keep you and I will clothe you and you will not make a single move that you haven't cleared with me first. Your are mine and you had better adjusting to that idea fast. I am not the most patient of men.