A Merry Texan Christmas by Nicole Flockton: is the third book in her Prentice Brothers of Sweet Ridge series.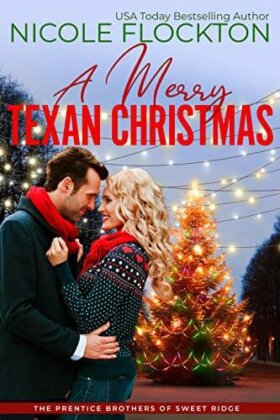 Let me introduce you to Miss Christmas, Maggie Watson. She is the bright spotlight of the town of Sweet Ridge, Texas' Christmas Spirit. It all begins on December 1st with Maggie's first Christmas wardrobe ensemble of the Christmas season. She even coordinates holiday gear with her French Bulldog Chester. This year Maggie is hoping to turn her window decorating into a business decorating business storefront windows for holidays and special occasions all year long. Then the competition came to town. Trey Prentice. When Maggie found a big crowd outside the town bookstore oohing and awing over the display in the window she was surprised. She hadn't decorated that window. Maggie had a crush on Trey Prentice in high school. She's determined to ignore her attraction to him now. That was working until Trey turned out to be a very sweet guy. "Be still my heart."
Trey Prentice is a former major league baseball star who now owns the bookstore in Sweet Ridge. He retired early to move back to his hometown of Sweet Ridge in the hope of repairing his relationship with his dad and two brothers, Tyler and Tate. He was enjoying his new life as a bookstore owner and repairing his relationships with his family but his agent kept calling him trying to talk him into returning to baseball. In spite of all the calls from his agent, Trey was determined to stick to his plans to stay in Sweet Ridge. He was getting along well with his family again. He was enjoying opening his bookstore every day. Most of all he was enjoying spending time with Maggie Watson. He had to convince her that he really wasn't trying to compete with her in setting up the best Christmas window display. Once she believed him and they started spending lots of time together Trey found himself falling for Maggie. All was going great until he got a baseball contract offer he couldn't refuse. Or could he?
This is the story of the last Prentice brother, Trey. With his baseball career going strong Trey wasn't around much for all the turmoil when his father had a stroke. He returned to Sweet Ridge to make up for that. I liked how Maggie kind of blindsided him with his attraction to her. I enjoyed seeing both Maggie and Trey work through their incorrect impressions of each other. When they both ended up having to work together on a major town display it was so much fun watching them together. There's lots of Christmas cheer, sexy times and family forgiveness in this story. I have enjoyed the whole series and fans of small town romance will enjoy it as well.


Book Info:

Publication: October 20th 2020 | Tule Publishing | Prentice Brothers of Sweet Ridge, #3
This former all-star never knew Christmas could be so competitive.
Former baseball star Trey Prentice is happily adjusting to life as a bookstore owner in his hometown of Sweet Ridge, Texas. While he loved his competitive and elite lifestyle in New York, he craved a quiet life with friends and family more. As Christmas approaches, Trey is excited to decorate his newest venture and participate in the town's holiday traditions. He never expected to find himself battling Sweet Ridge's very own Miss Christmas. Game on.
The only thing librarian Maggie Watson loves more than books is Christmas. She's even earned the nickname of Miss Christmas because she decorates shop windows and spreads Christmas cheer around town. But this year she's got some competition. No way is she going to let the cocky Trey Prentice take away her Christmas crown, even though he makes her heart flutter.
When their verbal sparring turns to flirting, Maggie finds there's more to life than books and Christmas. But will her past insecurities steal her newfound happiness?