Banished Prince to Desert Boss by Heidi Rice: Masterpiece! Banished Prince to Desert Boss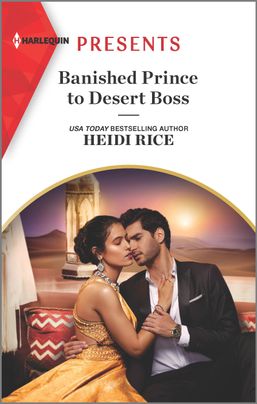 by Heidi Rice is a May 22 release which to me is the epitomy of sizzling desert danger, bad boy prince and contained excitement a plenty!
Diplomatic Aide Jamilla is assigned to take care of Sheikh Karim's brother Dane who is standing in as Head of State during a hugely important trade tour that the royal family can't attend. Clashing the second they meet, it's easy for Jamilla to misinterpret Dane's disdain for protocol as rudeness. rather than the fear and loathing coming home which is choking Dane. Jamilla learns(in the most beautifully described way) there is more to Dane than meets the eye and when the tour commences, it's not just the scorching sun that's causing her to break into a sweat.
I loved Dane the second he swaggered off the plane. Heidi Rice has created the most perfect character. He's charming, offensive, funny, big tough guy bad boy Prince who loves all things fast and powerful from his brother's temperamental horse to his loud and purring steel horse. Deep down Prince Dane is just a guy who's hurt deeply by his past but loves with a passion his brother and sister in law. He knows what he wants and isnt afraid to go after it but holey smokes what happens when a guy might want more than just a one night stand?
From my checks this isnt not linked as a due but be sure to check out Sheikh Karim, Dane's brother's story "Innocenh'ts Desert Wedding Contract" which I remember loving just as much and deserved 5 stars for the cover alone!
Banished Prince to Desert Boss was 100% to me! It was fast paced! It was humerous! It was emotional! It was interesting. It was Perfection!
Book Info:

Publication: May 2022 | Harlequin Presents |
Exiled Prince Dane must return to the palace he loathes for an international tour. But he'd rather escape to the desert than do his royal duty, much to the dismay of his by-the-book diplomatic aide, Jamilla.
Discovering her boss naked in a desert oasis doesn't help innocent Jamilla's already speeding pulse! Neither does Dane's declaration that he'll only attend an important ball with her as his date. Ignoring protocol for once feels amazing, until their stolen moment of freedom becomes a sizzling scandal…