In Beach House Summer by Sarah Morgan, Thanks to Joanna Whitman's ex-husband being a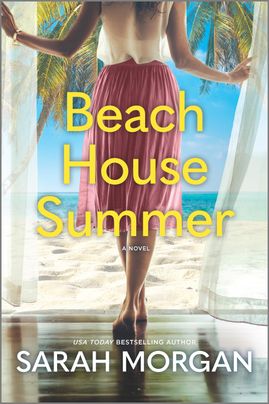 celebrity chef, she's used to finding ways to avoid the media. But when Cliff dies in a tragic accident and there's also an eighteen-year-old pregnant woman in the car–who survives–Joanna basically has to hole up in her house, the paparazzi are so bad. Unable to think of any other solution, she invites the young woman, Ashley Blake, to stay with her in her family home in Silver Point, California. Joanna hasn't stepped foot in her hometown in twenty years. But she knows it's the safest place for them to lie low for a bit. Only, she didn't expect to also come face to face with her childhood best friend Melanie or her former sweetheart Nate and to have to face down their complicated past.
'Once, she'd had a life here. This had been her place, and then she'd tossed it to the wind and taken off without looking back. She'd been running away. And she was doing the same now, wasn't she?'
Ashley really has no idea why Joanna is being so nice to her, given their awkward situation. But she guesses that's just the wonderful person Joanna is. She'd have to be a terrific person to have put up with her cheating ex-husband for so many years before finally divorcing him. And now Ashley is bringing more chaos into Joanna's life. But there's no other alternative until she figures out where to go and how to take care of her baby. To her surprise, she and Joanna are more alike than she could ever have dreamed. And the strength they each pull from their newfound friendship is making all the difference. With the help of Silver Point's residents, Joanna's childhood bestie Melanie, and the calm of the Pacific, Ashley has a feeling that everything will end up okay somehow.
"I promise that whatever happens, I'm here for you. You're not on your own. I'm going to protect you."
Ashley felt a solid lump form in her throat. She was going to protect Joanna, too.
There's nothing like a brand new Sarah Morgan novel to dive into, is there? Her newest offering, Beach House Summer, will likely top your summer reading list as it's set in a small coastal California town, was all about overcoming hardship and starting over, the power of female friendship(s), and yes, it even had some sweet romance.
"This is your hometown, Joanna. We're your people. If you're in trouble, then we help. It's as simple as that. You let us know what you need and we'll make it happen."
While Sarah Morgan's summer book last year, The Summer Seekers–which I highly recommend!–was a trek across the US, Beach House Summer started and ended in beautiful California. From the description of Joanna's fancy home outside the city to her sleepy little hometown Silver Point, right on the Pacific, Morgan created a setting that was absolute perfection for her heroines. Yes…heroines, plural. We got to follow three POVs here: Joanna, Ashley, and Melanie. And I have to say that Morgan was very clever in how she tangled these women's lives up as well as how she presented it all, one piece at a time, over the course of the book.
The bulk of the story revolved around Joanna. She had been through so much in her forty years but carried on with an outward calm that fooled those around her into believing she had it all together. But deep inside, Joanna was hurting and quite lonely. It was after the sudden death of her cheating ex-husband that she finally got up the courage (after twenty years) to visit her beloved family home, Otter's Nest. I loved that she brought Ashley along with her. It was an unusual decision, being that the eighteen-year-old was in the car with Cliff–plus Ashley was pregnant. But things were different than they appeared on the surface. And the amazing friendship they created was a source of inspiration as well as some chuckles and happy sighs. I just *adored* them together. Ashley gave Joanna just as much support as she received from her, making their lovely bond even more meaningful.
Melanie was quite the hoot. She was Joanna's best friend from childhood up through when Joanna left town with Cliff at eighteen. Between the shock of Joanna being back in Silver Point, with a possible reconciliation between them, and Mel's rocky relationship with her teenage daughter Eden, she had her own part of the story that I think readers will resonate with. Mel was outspoken which both helped and hindered her as you'd expect. But she was loyal (maybe to a fault) to her loved ones. And the way she and the entire town rallied around Joanna and Ashley to keep the reporters away? Well, that melted my heart as I'm sure it will yours.
QOTD: Joanna's beachside home was a peaceful place for her and Ashley to heal. When you need time away, is it near the ocean or a lake? Or somewhere altogether different?
Book Info:

Publication: Published May 17th 2022 | HQN Books |
USA Today bestselling author Sarah Morgan returns with the ultimate beach read, as one woman forges the most unlikely friendship of all, and embarks on a summer of confronting her past in order to build the future she wants…
When Joanna Whitman's famous ex-husband dies in a car accident, she doesn't know what to feel. Their dysfunctional marriage held more painful secrets than she cares to remember. But when she discovers that the young woman with him in the crash is pregnant, Joanna feels compelled to act, knowing exactly how brutal the media spotlight will be on celebrity chef Cliff Whitman's ex-wife and his mysterious female friend.
Ashley Blake can't believe it when Joanna shows up in her hospital room and suggests they hide away at her beach house on a sleepy stretch of California coast. Joanna should be hating her, not helping her. But alone and pregnant, Ashley can't turn down Joanna's offer. Yet she knows that if Joanna ever found out the real reason Ashley was in that car, their tentative bond would shatter instantly.
Joanna's only goal for the summer is privacy, but her return causes major waves in the local community, especially for the man she left behind years ago. All Ashley wants is space to plan for her and her baby's future, and to avoid causing any trouble for Joanna. But as secrets spill out under the hot summer sun, this unlikely friendship is about to be put to the test.