In Barefoot by the Sea (Barefoot Bay #4) by Roxanne St Claire, Tessa Galloway hates secrets. After her messy childhood and even messier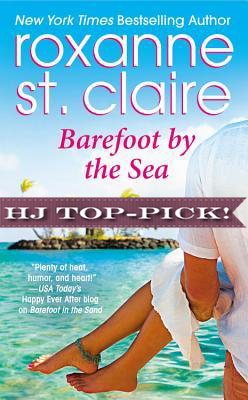 divorce, she has decided to live her life as honestly as possible. That includes being up front with everyone about her primary goal of having a baby.
'He closed the rest of the space, coming about a foot from her. Close enough to smell a new scent in her garden. Man.
No wonder Eve sinned.'
Tessa's life on the island resort of Casa Blanca changes forever when she meets John at the local bar. Their brief but memorable encounter comes back to haunt her when he becomes the new chef at the resort. Not only must she work closely with him as she supplies the kitchen their organic food from her farmette, but she has somehow fallen for the intense stranger with hidden secrets.
"Because when I look into your eyes, I see…"
She silenced every warning bell, demanding them to stop and let her hear what it was this gorgeous, complicated, surprising, astonishing man saw when he looked into her eyes.
"A future."
Life on the run in the witness protection program has been taxing to say in the least for John Brown, formerly Ian Browning. But all he cares about is getting his twins back eventually. And time is running out. The government keeps changing their requirements and now they say John must have a wife to show a stable lifestyle. The moment he meets Tessa, he can see himself falling easily for her. However, her abhorrence of secrets causes a moral dilemma. Can John trick Tessa into a marriage of convenience to get his kids back and still live with what it would do to her life?
"Ian, you live with this lie or you die."
I can honestly say Barefoot by the Sea is now my favorite of the Barefoot Bay series. Be ready to get WAY too attached to all of the characters involved and for a whirlwind of emotions.
'He shouldn't have picked her. She was too tender. Too precious. Too real. All the things he wasn't.'
Tessa and John's story is gut-wrenchingly emotional, wrought with longing and passion but yet still manages to have a lot of fun and flirty moments. Admittedly, from John's traumatic loss to Tessa's struggle to conceive, the raw emotions just wrecked me.
Tessa had me frustrated a few times with the way she treated John. Her single minded goal of having a baby didn't allow her to see what was in front of her (although I do definitely understand her plight). Plus her hypercritical view of no secrets, even though she had one of her own, further complicated things. But Tessa will do anything for the ones she loves and that one redeeming quality in itself speaks volumes to me.
My heart broke in a million pieces for John and his children. I can't imagine what he had to endure over the past three years to stay safe and the hoops he has had to jump through to try to get his children back. Yes, he may have lost himself occasionally in casual one night stands and scotch, and his temper may have flared, but he did the best he could with what little he was given.
The secondary characters were just as crazy and wonderful as always: Zoe, Jocelyn, Lacey and their significant others still shared in the spotlight and even Lacey's daughter Ashley has a story of her own to tell this time. The writing was perfectly on point as always and the pace of the story was flawless.
I absolutely recommend reading this incredible love story! But be forewarned that you will laugh, cry, and sigh with happiness. I sure did.
Book Info:

HJ Top Pick  
Publication: October 29th 2013 by Forever | Series: Barefoot Bay #4
"Pack this one in your beach bag and get ready for nonstop fun."
— Susan Mallery, New York Times bestselling author, on Barefoot in the Sand
A Barefoot Bay Novel When you think you know your heart's desire . . . Tessa Galloway is a gifted nurturer-her verdant garden at Barefoot Bay's new resort is living proof. If only the woman who can grow anything could grow what she wants most: a baby. Her friends think the right guy will come along, but Tessa doesn't want to wait. All she needs is the perfect donor to make her dream come true. Then John Brown is hired at the resort. If anyone could make beautiful babies, it's this gorgeous, mysterious man. So why does Tessa suddenly find herself wanting so much more? Can you give up all your dreams for love? It's been three long years since John Brown had to leave his old life. Forced into the witness protection program, he's desperate to be reunited with his toddler twins. When he gets that chance, there's a catch-he must prove he's got a steady job and a new wife. Landing a gig as a chef in Barefoot Bay is easy enough. And falling for lovely Tessa is even easier. The hard part? Can he win the heart of a woman who prizes honesty-when the truth may shatter it?