Bayou Baby by Lexie Blake: Seraphina Guidry is more than a little shocked when her Great-Aunt Irene leaves her the rundown home that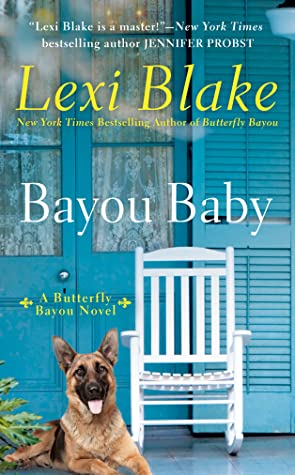 has been in the family a long time and money to help fix it up. Sera was always kind to her aunt who definitely gave off the "cold pricklies".
Sera is a single mom with a young son to consider. The task of restoring the house seems more than daunting until she meets Harrison Jeffreys.
He volunteers to help her as much as possible.
Harry is part of the richest family in the small town of Papillion, near New Orleans. Harry spent several years in the Army and lost a leg, but he wants to spend time with his Aunt Celeste and cousins and start a new phase of life.
Harry is attracted to Sera right away, but she doesn't want a relationship. The two of them start working together on the house and form a bond. Can Harry win Sera over or will the past from both families stand in the way of happiness?
I love that author Lexie Blake made Harry a wounded warrior. Too often, in real life and fiction, the hero is supposed to have a perfect body. This story goes beyond the shallow view of things.Sera has made mistakes and kept secrets, but she is loyal and loving. Her family has some real "characters", but they all support each other. Celeste starts out as a woman you love to hate, cold and critical. Her past is slowly revealed and the reader sees there is hope for her, despite all she has said and done.
Although Bayou Baby is a romance at heart, it is also a wonderful and charming story of family in many forms. The cover is very sweet and colorful. The dog pictured on the front matches the description of Shep, Harry's faithful companion.
Bayou Baby is the second in a series, but I had no trouble reading it on its own. I look forward to another novel in this series.
Book Info:

Publication: August 25, 2020 | Berkley | Butterfly Bayou #2
A heartwarming contemporary romance set in Louisiana's Butterfly Bayou from New York Times bestselling author Lexi Blake.
Seraphina Guidry loves Butterfly Bayou. A young, single mom, she's trying to find a place for herself in the town she cherishes, but past mistakes have made her wary. She adores her son but has sworn off men. She's dedicated herself to restoring an historic house and building her own business. A quiet life is all she wants.
Harrison Jefferys never expected to find himself in small-town Louisiana, but he has a job to do and a family to reconnect with. After years in the Army, he's happy to spend time with his Aunt Celeste and his cousins in such an idyllic spot. When he meets Seraphina, he starts to think Papillion might be a great place to call home. But a secret from Sera's past rears its head and threatens to tear the community apart.
Caught between the woman he's coming to love and the only family he has left, Harry knows he has to follow his heart and with the help of the crazy, loving, meddling locals find a way to keep them both.