In Beauchamp Hall by Danielle Steel, Winona Farmington knows all too well how quickly your life can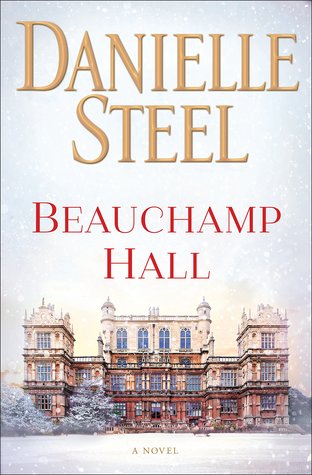 change directions. Starting back when she had to leave college to take care of her ailing mother for several years–time that she will forever cherish as her final memories with her mom, but something that certainly put a stop to her plans of moving to a big city and working in the publishing world. The next huge change comes years later, after trudging along day by day with no real goal in sight, Winnie's world takes an about-turn all in the same day. The promotion she was up for at work? Given to someone way less qualified. Her long-time boyfriend and her childhood best friend? Having an affair together. As the entirety of it hits her, Winnie decides some other major changes are in order.
'It had been a clean sweep, her job, her boyfriend, and her best friend, all gone in one day… She had no idea what to do next or where to start. Her whole life had come down around her.'
Having recently become addicted to Beauchamp Hall, a television show set in a castle in England in the 1920s, Winnie drops everything in Michigan and goes on an extended vacation to visit the small village the TV show is filmed in. She falls in love instantly with the locals and the incredible history wrapped around the town and its claim to fame: Haversham Castle. Not only do the royals who live there rub shoulders in town with everyone, but Winnie eventually becomes friends with them. She also gets caught up in working behind the scenes with the actors and the crew on the show, stretching her creative and organizational abilities for the first time in many years. With a possible love interest and new career path to potentially follow, Winnie's stay in the quaint village might end up being far longer than she expected.
'For the first time, she was starting to think about her future. For Winnie, it was a big change. She had drifted from year to year till then. And woke up at thirty-eight.'
Beauchamp Hall takes us "across the pond" to a charming English village complete with castle and royalty, where our heroine discovers her true talents–and her independence–along the way.
'There were parts of her life now, in fact all of it, that felt like someone else's life, surely not hers. Titled aristocrats and movie stars, castles and hit TV shows. It still took her breath away at times.'
Trigger warning: Adultery. (Quite a few mentions of it, actually, and some of it graphic)
Beauchamp Hall (pronounced Beecham) read more like women's fiction than a true romance to me, but I think it worked well with Danielle Steel's creative idea here. It was so satisfying to watch Winnie stand up for herself after being treated poorly by her long-time boyfriend and her supposed best friend as well, who betrayed her in the worst of ways. Once Winnie decided to go visit the town her new favorite period drama was set in (somewhat similar to Downtown Abbey) the fun really started. She was still the same caring, helpful woman she always had been, but Winnie began to have a better sense of who she really was and what she was willing to put up with from those around her.
The small town the TV show was filmed in and the offbeat people Winnie met were very well done by Steel. Some of what happened was a little over the top and not necessarily realistic, but it lent a dramatic air to the story that was extremely entertaining. I think what I liked most aside from Winnie's journey was seeing how much the TV show changed the town and the lives of everyone in it. That part of the story did ring true to me, having lived in small towns my whole life, and I think seeing the opportunities it brought–as well as some of the problems–was something a lot of readers will relate to. Plus it was just fun to think about visiting a place like that as a fan and then getting to hobnob with famous actors and royalty. Plus Winnie got to become part of the working set there, which would be a dream come true for fans of any TV series or movie franchise.
A delightful new novel by bestselling author Danielle Steel, Beauchamp Hall was full of heartfelt scenes, devastating changes, and even a bit of romance. Definitely recommended.
Book Info:

Publication: Published November 20th 2018 | Dell Books |
#1 New York Times bestselling author Danielle Steel tells the uplifting story of an ordinary woman embracing an extraordinary adventure, and the daring choice that transforms her world.
Winona Farmington once dreamed of graduating from college, moving to New York City, and pursuing a career in publishing. Then real life got in the way when she left college and returned to her small Michigan hometown to care for her sick mother.
Years later, stuck in a dead-end job and an unsatisfying relationship, Winnie has concluded that dreams were meant for others. She consoles herself with binge-watching the British television series that she loves, Beauchamp Hall, enthralled by the sumptuous period drama set on a great Norfolk estate in the 1920s. The rich upstairs-downstairs world brilliantly brought to life by superb actors is the ultimate in escapism.
On the day Winnie is passed over for a long-overdue promotion, she is also betrayed by her boyfriend and her best friend. Heartbroken, she makes the first impulsive decision of her conventional life—which changes everything.
She packs her bags and flies to England to see the town where Beauchamp Hall is filmed. The quaint B & B where she stays feels like home. The brother and sister who live in the castle where the show is filmed, rich in titles but poor in cash, are more like long-lost friends than British nobility. And the show itself, with its colorful company and behind-the-scenes affairs, is a drama all its own. Winnie's world comes alive on the set of the show.
What happens next is the stuff of dreams, as Winnie takes the boldest leap of all. Beauchamp Hall reminds us to follow our dreams. . . . You never know what magic will happen!