Solace Island (Solace Island #1) by Meg Tilly: Maggie Harris is going to Solace Island for a three week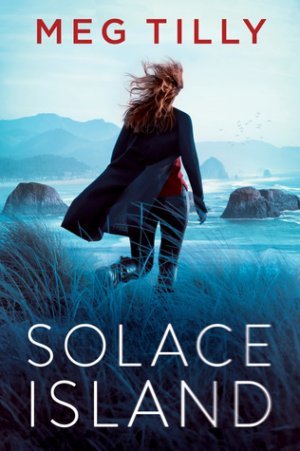 vacation with her sister Eve. Maggie needs this break big time. She has just been jilted the night before her wedding by her long time fiance. What a mess! He is also her business partner and doesn't want to buy out her interest in the business. He doesn't have the money to and can't get a loan. Too bad! If he doesn't buy her out Maggie will sell to Pondstone Inc., a business that has been interested in buying the company. She will worry more about all that after she finds her way to the cottage she and Eve rented.
The fog on Solace Island turns so thick after Maggie arrives on the ferry that she soon becomes lost. Along comes island resident Luke Benson and his wolfhound Samson to save the day and give Maggie directions. Turns out that Luke is not only a hot sexy hunk but he is also a neighbor. And a former security guru. That just might come in handy. Maggie is going to need his help after almost getting run over by a speeding car. Luke is suspicious. Are Luke's suspicions warrented? Read this story to find out.
Solace Island is the first book in author Meg Tilly's Solace Island Series. She grabs the reader's attention from the very beginning and her fast-paced plot will keep readers eagerly turning pages until the very end. Her storyline runs smoothly and her ability to paint her characters realistically adds much to this book. I loved her descriptions and introduction to what sounds like a truly beautiful island in the Pacific Northwest. I totally enjoyed the thrills and suspense in this story as well as the relationship development between Maggie and Luke. I am looking forward to more stories in this series.

Book Info:

Publication: November 6th 2018 | Berkley | Solace Island #1
A contemporary novel with a strong suspense element from Oscar-nominated actress Meg Tilly set on a peaceful island village in the Pacific Northwest.
Dumped on the eve of her wedding and looking for a quiet place to lick her emotional wounds, Maggie Harris joins her sister on Solace Island, where she hopes to recover from the stunning betrayal. At first, Maggie resists Eve's impassioned argument about relocating permanently so the sisters can open their own local bakery. What she definitely doesn't need on her road to recovery are Eve's efforts to fix her up with their mysterious and alluring neighbor, Luke Benson–even if he is incredibly handsome and desirable.
Just as Maggie starts to get comfortable in her new surroundings, a car tries to run her down in the middle of the street. If it weren't for Luke's extremely quick reflexes, Maggie could have been killed, leading her to wonder just who exactly Luke Benson really is…
Luke thought he'd left the violence of the high risk security world behind. But he can't stand by while Maggie's life is threatened. Luke will do anything to keep her safe–even moving Maggie and her sister into his house with its state-of-the-art security features. But with the secrets between them and an unknown threat stalking her heels, Luke will have to think fast to prove to Maggie that she can trust him with her life–and with her heart.