Beautiful Disaster by Jamie McGuire: INTENSE. DANGEROUS. ADDICTIVE.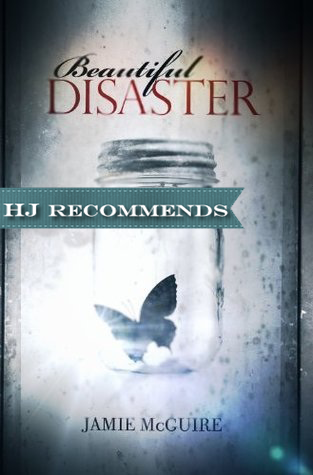 I found out about "Beautiful Disaster" just before the whole New Adult genre gained ground. I thought the idea behind the story was awesome and thought "now here is a book for me". And now that I've read it I am very glad to have found it by accident.
Abbey is in college and she has recently found out about Travis Maddox's world of Underground fighting. She is shocked and Intrigued by him but isn't quite sure how to feel about a man willing to show such brute force for a Cash prize.I personally found this set up to their relationship very interesting. I also loved that Abbey tried her hardest to prove to Travis and herself that she felt nothing for him, but eventually realizes the error in her ways. Abbey was a very creatively written character, that I instantly connected with.
It would be horrible not to mention the romance in this book. So what I have to say about Travis and Abbey's relationship is…wow!
"I knew the second I met you
that there was something about you I needed. Turns out it
wasn't something about you at all. It was just you."
Be prepared for a roller coaster ride of emotions and steamy situations between these two incredibly charming and beautiful characters. I don't know that there's anyone out there that won't find at least one part of this book as enjoyable as I did. And I would definitely recommend "Beautiful Disaster" by Jamie McGuire to all of you.
Book Info:

 HJ Recommends
Paperback, 418 pages Published August 14th 2012 by Atria Books (first published May 26th 2011)
INTENSE. DANGEROUS. ADDICTIVE.
Abby Abernathy is a good girl. She doesn't drink or swear, and she has the appropriate number of cardigans in her wardrobe. Abby believes she has enough distance from the darkness of her past, but when she arrives at college with her best friend, her path to a new beginning is quickly challenged by Eastern University's Walking One-Night Stand.
Travis Maddox, lean, cut, and covered in tattoos, is exactly what Abby wants—and needs—to avoid. He spends his nights winning money in a floating fight ring, and his days as the ultimate college campus charmer. Intrigued by Abby's resistance to his appeal, Travis tricks her into his daily life with a simple bet. If he loses, he must remain abstinent for a month. If Abby loses, she must live in Travis's apartment for the same amount of time. Either way, Travis has no idea that he has met his match.(less)