In The Texas Christmas Gift by Cathy Gillen Thacker, Eve Loughlin knows that the one thing she does not want is marriage or family. She knows what it's like to b on the other side of a parents divorce and hate and she does not want any child of hers to go through that, therefore she plans to never marry or have children.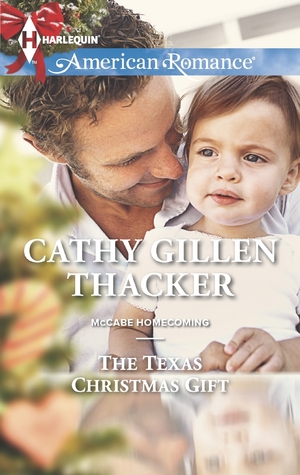 Now Eve lives to work, specifically making sure that her mother's company is the best realtor company in town, and hopefully they will be able to win the award for the most sales this year. But in order to do that they need to make sure to sell as many houses as possible before the end of the year, and if in they range in the millions even better.
Derek McCabe needs to buy a house ASAP, he wants it in the most expensive area in town and be able to move in before Christmas. This will be his first Christmas with his daughter and he doesn't want to spend it in a hotel like all of his visits have been so far. When he meets Eve he knows that she will be able to get the right house for him. But after having to take a call as soon as he meets with her and taking over her office for half an hour, Eve fires him as a client.
Unfortunately for Eve as she is about to break the news to her mother during a meeting, her mother suddenly suffers a mild heart attack. Now with the worry of her mother's health Eve knows that she cannot upset her about maybe not being able to beat the other biggest competitor in town for the award. So now she must grovel to Derek and try to get his business back.
Derek knows that women can be fickle and he does not want that in the person who is meant to help him find the right house for him and his daughter. Only once he talks to Eve he can see that she is perfect for him in more than one way. But he does not mix business with pleasure, so he must settle business as fast as possible so he can then convince her to date him.
Eve is very attracted to Derek, but spending time with him and his daughter brings forth wishes that she has been hiding from even herself. And the feeling of family and closeness will make her more scared than anything else could. She may be willing to have a fling but something more permanent will not be easy to convince her of.
Derek will have a tough time convincing Eve that being together is the best for all, and that she can give the commitment she is afraid is not in her. And his approach of pushing forward to get his way may not help him at all if he doesn't take the right approach with Eve and may end up loosing her.
I really liked this book it was very sweet and sexy. But I think my favorite scenes were when Eve spent time with Derek and his daughter. At first she believes that the baby can be a mini chaperone, but then she realizes that spending time with both can also feel very intimate and family like. No matter how much she wanted to keep her distance that little girl had her wrapped around her little finger, and I think my favorite scene was when Derek has his daughter and they are staying over at Eve's for the evening, only to have the baby crying incessantly, only to find out that she is teething. You have to read it to find out why they are staying with her and how they find out. If you are like me you will find it sweet and funny.
Don't miss The Texas Christmas Gift by Cathy Gillen Thacker, part of the McCabe Homecoming series, you won't regret it.
Book Info:

December 3rd 2013 by Harlequin American (Book 1477) | Series: McCabe Homecoming
The Gift Of Love
A home for the holidays–that's a pretty tall order, with Christmas only a few weeks away. But venture capitalist and single father Derek McCabe never takes no for an answer. And he's certain that Eve Loughlin is just the Realtor to find a house for him and his young daughter.
Derek needs more than shelter, though. Being with Eve makes him aware of all he's missing: love, companionship and a beautiful woman to share his life. Eve is all business, but there's no denying the attraction that keeps bringing them together long after the contract is signed. Derek knows just what he wants. Can he get past that cool exterior and make her his own Christmas Eve?