The Billionaire's Legacy by Reese Ryan is a lovely, family focused romance that features a couple who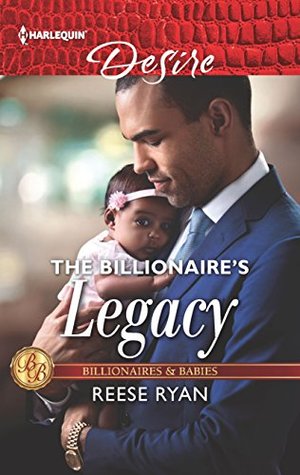 knew each other as children and end up having one night together– with unexpected consequences!
Benjamin Bennett is delighted to see Sloane Sutton, his sister's best friend and his one time crush at a wedding in their home town. Sure, she's five years older than he is, but now that he's 25, that age difference means nothing. Sloane is equally happy to see Benji and can admit that he's grown into a fine looking man. There's a frisson of attraction between them that leads to a steamy night together but in the morning they go their separate ways.
Six months later, after Benji has returned from some contract work out of the country he comes to pay Sloane a visit, hoping they can rekindle that magic night together. In doing so he discovers that Sloane is pregnant, with twins! He's hurt that she never contacted him as they are his babies too but Sloane had taken his words about not being ready for kids and had been torn about telling him, putting off the decision. Now it's out in the open and Benji is determined to do the right thing.
A billionaire due to some fortunate tech deals, Benji has the money to provide for Sloane and the babies in style and he offers marriage. But Sloane is wary of being beholden to him, having learned from her mother's own experience that marrying for money and a child is not the same thing as marrying for love. She's willing to live with Benji for the first year of their childrens' lives and see how things go. Their families and friends have varying opinions about the pregnancy and the relationship, an added stress on their own feelings. When the year is up, will they have found their way to a happy ever after?
I loved this story! Sloane and Benji are really likable, friendly characters. Benji is still adjusting to being wealthy and the effect it has on those around him. Many of them want to find a way to use him for his money, and Sloane is the first woman he's seen in a while who isn't impressed with his wealth, or wanting to use him in any fashion. In fact, the opposite happens when she gets pregnant. She could have tried to use the pregnancy to gain a rich husband but she'd instead tried to deal with the pregnancy on her own and won't marry Benji just because of it.
The twins are born partway through the story, so they get lots of page time. In the beginning it's Sloane's family that is more supportive as Benji's family has misgivings about Sloane's intentions, wondering if she got pregnant on purpose. It causes a strain on Benji that Sloane feels guilty about, though Benji is loyal to Sloane and makes sure it is his family that understands that they need to shape up if they want to see the twins. It takes some time for all of them to work through these issues, but it makes for an authentic feeling story.
The issue of money comes up time and again and isn't without its ups and downs (even though you'd think having a lot of money would be a plus). At first Sloane is reluctant to let Benji pay her debts. Then when they have the children, Benji wants to use his money to better their life. He thinks that hiring a cook and a housekeeper and a nanny will enable Sloane to have more time for herself, but Sloane isn't always on board with his plans, wondering what will happen if Benji decides he doesn't want a long term relationship beyond co-parenting. There's a lot of give and take that happens, and there were times I felt exactly as Sloane did, that Benji was overstepping as he would make decisions without consulting her that were frustrating! He had good intentions but needed to learn to discuss things with her. Eventually they get some much needed alone time and rekindle their sex life with some sweet and steamy love scenes.
Sexy times, parenting, heartfelt discussions and compromises build the foundation of their relationship leading them to a very satisfying happy ending. The twins are adorable, and the scenes with them as they are growing are a delight. I'm so glad I picked this one up, and I highly recommend it for those who love seeing couples work through their issues to find real love and commitment.
Book Info:

Publication: Oct 01, 2018 | Harlequin Desire | Billionaires and Babies #1
"Just for tonight."
Until their chance reunion takes a sharp turn…toward twins.
Tech billionaire Benjamin Bennett can't resist a steamy weekend with Sloane Sutton—his crush on her goes way back. But when he tracks her down, she's pregnant—with twins! Now their fling needs trust to survive. Benji wants a wedding; his family claims she's a gold digger. But Sloane won't be bought—or married. Can they find common ground…and a shot at forever?