In Beautiful Wreck (Rock 'n' Ink #3) by Kasey Lane, it's hard for Gabrielle 'Gabby' Alvarez to trust anyone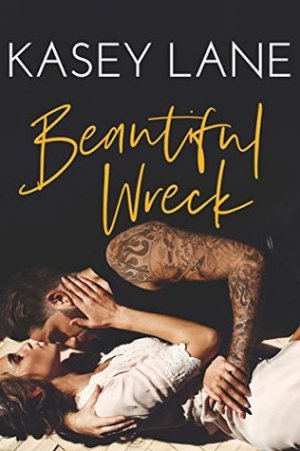 after everything she's been through. However, when she's targeted by a stalker, she turns to the one person that she knows she should stay away from – Bowen Landry. Since the man has his own troubles to deal with after doing his best to stay clean and sober. Will Gabby and Bowen be able to help each other heal from their pasts or will Bowen be another person who lets Gabby down?
"You can't just kiss me every time you don't get your way, pretty boy." She hated how breathless she sounded. When he dropped his hands from her body, she shivered involuntarily, cold where his warm body had pressed against her.
"No?" He cocked his dark brows over his steely gray eyes and that sexy, but infuriating half smirk was back. "Seems pretty effective to me."
This is the second book I've read by Ms. Lane and the first book I've read of this series, and I've got to say that I really enjoy this author's writing, even though I was a little frustrated by the hero's nickname for the heroine. It doesn't seem like a term of endearment, and instead, feels like he's mocking her height compared to him. However, in saying that, this story had an interesting plot that had me wanting to know more about the heroine's past and why she'd be targeted by a stalker; the dialogue was entertaining, as the heroine is very independent and doesn't trust easily; the characters were fascinating and have interesting back stories that had me sympathizing with them at times; and the tough obstacles these two face to be together had me reading quickly, determined to discover whether they'd be able to overcome them all.
The way this story started drew me in immediately, as the hero is attracted to the heroine, and yet, knows he isn't what she needs in her life and vice versa, especially when she's got that whole I-don't-need-anyone vibe going on and not when he's decided to remain celibate for a year. However, it seems impossible for him to stay away from her. Moreover, the heroine is resilient, very independent, courageous and I liked her dry humor. Certainly, she isn't afraid to stand up for herself and put Bowen in his place when she thinks he's being too domineering. I also liked that she took a chance on the hero, even though things that have happened in his past should have sent her running in the opposite direction. She's been through it all with her mother, and yet, she can't stay away from him. Then again, he proves he isn't going back to his old ways time and time again.
While the hero, he's strong, confident, protective and I liked how determined he was to show the heroine that she can trust him. I also liked how he's battled his past and come out on top because he couldn't continue on the way he was. He was spiralling out of control and breaking too many promises. Luckily, he has wonderful and supportive friends and family in the secondary characters. Yet, what I liked most of all about the hero was his determination to help the heroine through the tough time she's facing. Is it her past coming after her or someone else? Will he be able to convince the heroine to stay with him?
"I lied when I said I didn't love you. I was scared, Gabby. I was afraid of the way you made me feel. You make me want things that I have no business wanting. Things like forever and babies and a white picket fence. All the s*** that I never thought I could have. But with you, I can. I know we can be happy. If you just give me another chance."
Overall, Ms. Lane a delivered a good read in this book where the chemistry between this couple was strong because the heroine provides quite the challenge for the hero; the sizzling romance heats up the pages and shows how much the hero cares for the heroine, even though he's unsure whether he'll be able to give her everything she needs – love, family, happiness; and the ending had me loving the hero's determination to win back the heroine after things go awry in their relationship. However, it was the epilogue that wrapped this story up nicely, as Gabby and Bowen have come so far in their relationship and there's no one she trusts more than Bowen. I would recommend Beautiful Wreck by Kasey Lane, if you enjoy books by authors Adriana Anders, Tessa Bailey, Aurora Rose Reynolds and Sarin Bowen.

Book Info:

Publication: May 31st, 2018 | Tule Publishing | Rock 'n' Ink #3
For savvy programmer Gabrielle Alvarez, moving to Portland, Oregon means a fresh start with a blank screen. She wants nothing more than to erase the last traces of her old life, starting with an exotic tattoo to hide an old scar. Gabby's instantly drawn to the enigmatic artist, who also happens to be her neighbor. Lucky she has no plans to date-especially sexy, brooding men.
Last year, Bowen Landry was the king of broken promises. He made hundreds to his sister to get clean and hundreds more to his band and his boss. But Bowen's sober now and determined to stay that way. The last thing he needs are complications, especially Gabby with her curves, dry humor, and independent spirit. Gabby spells danger to Bowen's peace of mind, not to mention his personal promise to stay celibate for one year.
Bowen is content keeping a firewall up between them until a stalker threatens Gabby's safety. Alone in a new city, she has no choice but to turn to Bowen for help, moving into his apartment after hers is vandalized. While the two grow closer, Bowen can't make any promises, and Gabby's not asking. While the inexperienced Gabby can't deny the charming, reformed bad boy, she's unsure she can ever trust an addict again. If Bowen can help Gabby forgive her past and his, he may learn to believe in love again.