In Beauty and the Greek Billionaire by Stefanie London, Marianna Halsey is ready to lose her virginity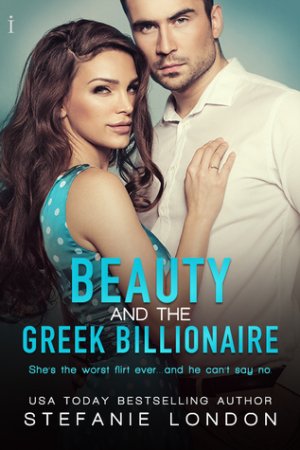 and there's no better time than when she's in Greece. However, she never imagined spending an incredible night with Greek Billionaire, Nico Galinas, would result in her becoming pregnant. When she decides to do what's right for her baby and tells Nico, she also proposes marriage. Yet, while he's determined to keep her at a distance, Marianna is determined to show Nico that love and happiness are worth fighting for. Will Marianna be able win the hero's trust or will Nico end up breaking her heart?
"You're like a Greek James Bond," she said with a laugh. "Mysterious businessman travelling all around the world."
"How do you know I'm a businessman?" he asked. Was this the moment where she'd trip up?
"Everyone knows a Rolex means money." She pointed at his watch.
"I could come from old money. Or I could be a prince."
"If you were a prince, you'd have an entourage." She narrowed her eyes at him. "And yes, I guess you could come from old money, but I don't see it."
What a delightfully written, fast-paced, compelling read Ms. London has delivered in this story encompassing a socially-awkward heroine that doesn't have a clue how to flirt and loves to tell random facts; a hero that finds it hard to trust after everything he's been through in his past; compelling dialogue that was a wonderful combination of intense moments due to the main characters back stories and playful banter that had me loving the growing relationship between the hero and heroine; and secondary characters that make things interesting, especially because they're so protective of the heroine and will do anything to make sure the hero doesn't end up hurting her. Will the hero be able to win Marianna's siblings and best friend over?
With the main characters, I loved how this story was a modern twist on the Beauty and the Beast fairy tale, as Ms. London brings the characters to life in showing the hero as a man that finds it hard to trust after such a tough childhood and believing getting close to people would lead to him getting hurt and the heroine being a beauty and terribly awkward, but ready to lose her virginity. Yet, she never imagined she'd end up pregnant from a one-night stand. Will Marianna be able to convince Nico that he can trust her? Moreover, the heroine is resilient and courageous when it comes to finally taking control of her life and discovering how good sex can be. I also like her quirkiness, which had me smiling and laughing, especially because the hero didn't make her feel like she was weird when she did toss out random facts. Yet, what I liked most of all is that she didn't give up on winning the hero over, even though he isn't easy to get through to. Will Nico realize that he's in love with Marianna before it's too late?
"You're teasing me." Her lips twitched.
"Never."
"I don't mind. It's a sign that you are actually human."
Shots fired. "As opposed to what, cyborg?"
"I would have said gargoyle. You know, miserable. Stony." She offered him a saccharine smile. "The word gargoyle actually derives from the French gargouille, meaning 'throat' or 'gullet'."
"Of course you have a fact for this conversation." He shook his head.
While the hero, he's been through so much in his life and it's understandable why he's so closed off and only lets in those that he's been close to for years such as his best friend. Really, I couldn't help but sympathize with the hero, as I discovered more and more about him when it comes to his past. Will he be able to forgive those that hurt him in the past? Will the hero ever be able to trust the heroine like she hopes he will, especially when she's so genuine and benevolent? Yet, what I liked most of all about the hero was the close friendship he shared with his best friend and business partner, as his best friend knows how hard his life has been and knows when to push Nico when he believes the hero is making a bad decision. Will Nico listen to his best friend's advice?
Overall, Ms. London has delivered a really good read in this book where the chemistry between this couple was strong; the romance was wonderful and had me liking how the heroine challenges the hero because she wants more than a marriage of convenience; and the ending had me loving the hero's determination to win the heroine's heart once he realizes love and happiness are worth fighting for. However, it was the epilogue that wrapped this story up perfectly, as Marianna and Nico are so good together and deserve every bit of happiness they've found. Really, Nico has finally found the family he was always meant to be a part of. I would recommend Beauty and the Greek Billionaire by Stefanie London, if you enjoy the opposites attract trope, fairy-tale stories with a modern twist or books by authors Alexia Adams, Cate Cameron, Kira Archer and MK Meredith.

Book Info:

Publication: October 29th, 2018 | Entangled: Indulgence |
Marianna Halsey has the most boring life in the world. With seven overprotective older brothers, she's even ended up a virgin at twenty-four. But when a dark and sexy male prevents her from getting her wallet stolen on a Greek vacation, she decides it's time for some adventure. She's read a gazillion romance novels. How hard can it be to score a hook-up?
Greek billionaire and stock market whiz, Nico Galinas has built an empire from nothing. Literally. Orphaned as a baby, Nico trusts no one. Especially not the quirky, attractive woman using the worst pick up tricks in history. She wants something, and Nico decides to play along, even when she invites herself back to his place.
But what happens when the beast accidentally knocks up the beauty?