In Beauty's Beast by Amanda Ashley, It has been four years since Lord Erik Trevayne lost his wife Dominique while she gave birth to their child, who also, sadly, didn't survive. He had only been trying to fulfill his father's last request of producing an heir to the Hawksbridge estate when the tragedy struck. Erik's mother-in-law, the dark witch Charmion, cursed him to slowly lose his humanity and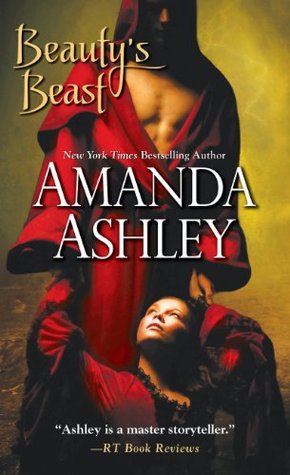 become a beast, the way she stated he took control over her beloved daughter. Nothing could have been further from the truth, but now Erik has been doomed to watch as his body changes every day into that of a monster.
"Look at me!" He whirled around to face her. "Look, and tell me you're not afraid of what you see."
"I see my husband."
"You see a monster!" He thrust his left hand toward her. "Tell me this doesn't frighten you! Tell me you're not repulsed by what you see."
She shook her head, her eyes filling with tears. "I am afraid, terribly afraid, but not of you."
It was at the lowest point of Kristine Arrington's life when Erik saved her. She was set to be hanged the next morning for murder when he chose her to be his bride and the mother of his future heir. Regardless of the rumors surrounding the mysterious lord, Kristine will forever appreciate his generosity. Neither of them can deny the build of attraction or the affection between them as they spend more time together. But when Kristine finds out the truth of what hides behind Erik's mask, will she be able to accept him as he is or will it be too much for her to bear?
'…She knew she would never turn him away. She owed him her very life, a debt she could never repay, but more than that, she sensed deep in her heart, that he needed her in ways he would never admit.'
Beauty's Beast was based on the classic Beauty and the Beast fairy tale, making it a wonderful mix of paranormal and historical romance. Full of desperation and longing, this is a twisted, but utterly romantic story that completely swept me away.
'Kristine. She was worth the pain each breath cost him. He would endure anything to have one more day with her, one more hour.'
I thought author Amanda Ashley did a very nice job of conveying the same overall tone that the classic story gave us without it being too similar. That being said, if you're familiar with the original fairy tale, you know that this isn't a cheerful, happy story, per se. It is a dark, sorrowful romance about two people who fall deeply in love with each other against all odds. And I think that is what has always drawn me to this type of story: characters that long to feel loved and cherished and they find that in someone who they think is wrong for them, but who turns out to be their perfect match. Fairy tale indeed.
To add to that, this also contains a marriage of convenience trope. Erik pulls Kristine from jail just before she is to be hanged as he needs a bride to produce an heir to his estate. It makes him a hero of sorts in her eyes, even though she's heard the rumors about him being a devil or a beast. I loved the slow journey that becomes their love affair, watching them begin to care for each other. There is such tenderness in Erik's actions with Kristine, even as the curse continues to turn him into a supposed monster. It was a bit painful to read about his desperation to keep his humanity and how much he wished he could allow Kristine to hold him, but it was true to the original story. And it endeared him that much more to me. And I loved that she was so accepting of Erik, no matter if the rumors were true, where he had saved her life and given her kindness and comfort when no one else had. So. Romantic.
Whether you're a fan or not of the original Beauty and the Beast tale, I think you'll definitely enjoy getting know this troubled couple while they fight for their happily-ever-after.
Book Info:

Published September 2nd 2014 by Zebra
Beauty
Fair of face and figure, Kristine is young, innocent, pure. Yet she has been condemned to the gallows for killing a man. The only one who can save her is a lord so infamous that some say he is the son of the Devil himself…
And the Beast
Erik Trevayne is called the Demon Lord of Hawksbridge Castle, but few know of the curse he lives under. Or the terrifying changes slowly gnawing away at his humanity. When he weds her, all he wants of Kristine is a son. But when he beds her, a wild hope is born—that love that can tame even the most monstrous of beasts…