In Belle's Secret (Outback Brides #2) by Victoria Purman, Isabella 'Belle' Martenson married Harry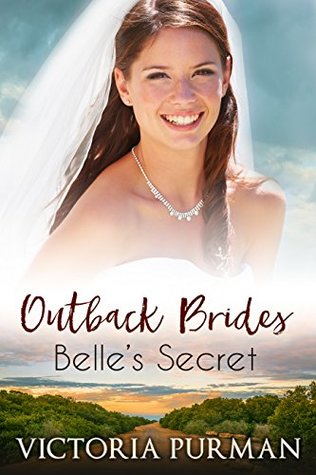 Harrison and then disappeared without a trace. But now, a year later, he's finally found Belle and wants answers to why she left him. Will Harry be able to forgive Belle or will they walk away from their second chance at happy ever after?
"Just tell me one thing, Belle." Harry pulled his shoulders back and his glance dipped to his shoes for a moment. "Are you in witness protection or something?"
"What…what are you talking about?"
"No one knew who you were. It's like you turned up in Vegas out of nowhere and disappeared right back there. It didn't help that all I had was 'Belle'."
This is such an interesting series and this book was a fantastic addition to it. It encompasses quirky outback weddings, fantastic characters, compelling dialogue that drew me in from the very beginning; and a fast-paced plot that had me loving the obstacles these two face to be together. Can Harry forgive Belle for her leaving him so soon after they were married? However, it was from the moment the hero and heroine come face-to-face for the first time in a year where things get very interesting, as Harry was hurt by Belle's disappearance since he thought they had something special. When in turn, it seems she might have been using him.
As for the dialogue, it was intense due to the main characters back stories and I couldn't help but sympathize with both the hero and heroine. The hero has great ideas when it comes to the family business, and yet, it seems his family don't respect him enough to be able to expand the company and take it to another level. Why does his father want to keep things the way they are? Moreover, I could understand why the heroine feels as though being married is beneficial to her job as a wedding celebrant, but I couldn't help but feel a tad disappointed by the choice she made to marry Harry and then abandon him. Will she be able to make things right with the hero? Will she realize that he's the best thing to come into her life in a long time? Also, she's resilient, independent, a good friend and I liked how determined she was to make things right with Harry because he's a good guy that didn't deserve what she did to him.
While the hero, he's confident, hard-working and I liked that he was willing to go after what he wants because dreams are important and he's not going to let his father's company fall behind the times because no-one in the family thinks his ideas are worth pursuing. I also liked how determined he was to get to know more about the heroine because there's plenty of chemistry between them and she's not easy to forget. Yet, what I liked most of all about the hero was the close relationship he had with his siblings. They supported him and were encouraging when it came to his life with the heroine because they want him to be happy. Something he hasn't been for the past year.
Harry nodded. "That's Amy. She was furious for about five seconds, until I told her."
"Told her what?"
"That I was going to Australia to be with you, so I could wake up every day next to you. That you changed my life. That you're the love of my life."
Overall, Ms. Purman has delivered a wonderful read in this book where the chemistry between this couple was strong and present from the moment they came face-to-face for the first time in this story; the romance was delightful and had me hoping for the best for this pair, as the hero and heroine deserve to be happy after everything they've been through in their pasts; and the ending had me loving the hero's determination to win the heroine's heart, which is proven by the decisions he makes that prove he wants forever with her. I would recommend Belle's Secret by Victoria Purman, if you enjoys second chance romances or books by authors Kelly Hunter, Cathryn Hein, Fiona McArthur and Juanita Kees.

Book Info:

Publication: June 25th, 2018 | Tule Publishing | Outback Brides #2
Isabella Martenson never expected to be a runaway bride. She never expected to be a bride, period. She simply has the wrong DNA to do the whole happily married thing. Until one night in Vegas with a handsome winemaker changes everything…
A year later, Harry Harrison's bride is still a mystery. Who was she? Where was she? And why did she run? When Harry flies to a Australia for his best friend's wedding, he runs straight into the woman he's never been able to forget.
All she asks is for their marriage to be kept a secret. All he asks is for a divorce. But after a week together, Harry and Isabella are forced to face what they really want.