Best Man for the Wedding Planner (Marrying a Millionaire Book 1) by Donna Alward: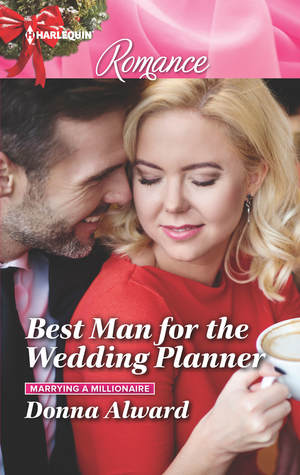 Unbelievable! This can't be happening! Wedding Planner Adele Hutchinson is in the lobby of the Fiori Cascade Hotel going over final arrangements with the bride whose wedding she is overseeing. She looks over to the entrance and sees Dan Brimicombe. What a shock!
The bride walks over to Dan and gives him a big hug. Lo and behold he is the Best Man. He is also Adele's ex-boyfriend. Adele broke up with him eight years ago after experiencing a major personal upset. She did it for him – for his happiness. She made the right decision, didn't she? Didn't she?
Best Man for the Wedding Planner by Donna ALward is a second chance romance. This couple has been reunited at a wedding. They both have lots of issues and decide to avoid each other. That didn't last long though. This story is an emotional trip to the Happily Ever After of these two people who never got over their breakup eigt years ago.
Donna Alward does a super job telling her readers their story. The storyline ran smoothly and held my attention throughout. I really liked both characters and was pulling for them to get together. As I read this book I was reminded of the saying, "Love conquers all." Donna'story is the epitomy of this saying. I really enjoyed this book and I recommend it highly.
Book Info:

Publication: December 1st 2018 | Harlequin Romance | Marrying a Millionaire Book 1
The first rule of wedding planning…
Be prepared for anything!
Wedding planner Adele Hawthorne is prepared for wedding hitches…but not for the best man to be Dan — her ex! Thrown together at every turn, Adele can't escape their chemistry or the fact that her heart-breaking reason for leaving him all those years ago hasn't changed. With just days before Dan leaves their winter wonderland, can he convince Adele they still have something worth fighting for?
Marrying a Millionaire duet
Book 1 — Best Man for the Wedding Planner
And look out for the next book, coming soon:
Book 2 — Secret Millionaire for the Surrogate