The Nashville Bet by Shana Gray finds Ava Trent in Nashville for the CMA Festival with three of her friends.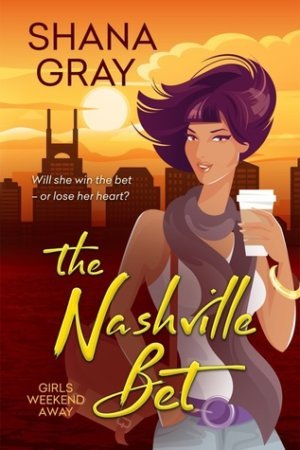 There she picks up tickets from Chase Hudson, an up and coming country music star. The pair hit it off, and they spend most of the festival together. But when it's time for Ava and her friends to leave Nashville, will their budding relationship survive?
It took me an unusually long time to get through this book. I kept putting it down and picking it back up. I think part of it was I didn't care for the author's writing style. There were way too many exclamation points, especially where they weren't needed. I think the author might have been trying to emphasize Ava's excitment about everything, but it was overboard and took away from the story. It also felt like it slowed the story down.
The next issue was that Ava and her friends come across as immature. They're supposedly successful women, but they act like teenagers throughout the whole book. Not once did I see anything that made me think of them as being mature.
Another thing that bothered me was Ava and her friendship with the other women. Celia and Bonni flew to the festival in a private jet, but basically admitted to not even thinking about picking up Ava or their other friend, Fredi, which left Ava to fly in by herself and Fredi to drive up from Florida alone. Then, right before they leave, they make her an offer to fly with them, but it was almost as if it was an afterthought. For a group of woman who were supposed to be so close, one would think they wouldn't treat one of them like that.
I found Ava and Chase's relationship to be unbelievable. It was pretty much insta-love. They meet one minute, the next he's taking her to his house where he never takes anyone. How does he know she isn't some crazy fan? The whole thing was completely unrealistic.
The premise seemed interesting but the book just didn't work for me. It got to the point where I almost gave up reading it, which doesn't happen to me too often. By the end of the book, I couldn't care less if Ava and Chase stayed together, and I couldn't wait for Ava's friends to leave Nashville.
Book Info:

Publication: December 18, 2018 | Entangled Publishing, LLC |
When her boss offers her free tickets to the CMA Fest, Ava Trent jumps at the chance for a weekend in Nashville with her best girlfriends. Great music and new opportunities to look for Mr Right? What more could a former country girl ask for? Well, maybe not to literally fall at the feet of the hottest guy she's ever seen.
After becoming an overnight success, fame doesn't rest easy on Chase Hudson's shoulders. It's hard to tell who's interested in him and who's interested in the star. So when he and Ava collide, and she has no idea who he is, he's immediately intrigued. Something about Ava calls to him – even though he's convinced she's a city-type who couldn't handle his Nashville life.
What starts as a light-hearted bet to test one another, becomes something much deeper as Ava and Chase can't stay away from one another. But with so many differences between their lives, will they win the relationship they've been dreaming of? Or lose each other?