In Bewitched (Betwixt & Between #2) by Darynda Jones , A lot has happened since Defiance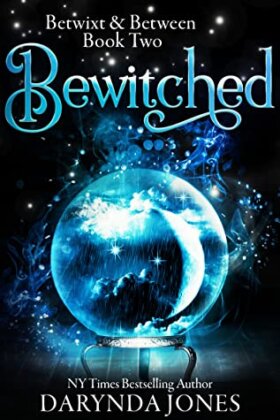 "Dephne" Dayne's forty-fourth birthday. She's finally divorced and sadly lost her business. But she's inherited her late grandmother Ruthie's awesome (haunted?) house in Salem, Massachusetts. Oh…and Defiance also found out that she's a powerful witch–called a charmling–and that including her, there are only three in existence. Unfortunately , along with all of those powers comes the threat of those who wish to steal it from her. Something Defiance will do her best to stop.
'They didn't realize that true evil existed. And I wasn't talking about serial-killer evil. Or total-disdain-for-human-life evil. But an evil that could rock the foundation of the world as we knew it.
An evil that was coming for me.'
Along with her BFF Annette, her fathers–yes, plural–her newly departed grandmother Ruthie, and a sexy kilt-wearing hunk who lives in her basement, Defiance begins to figure out who she really is. And just how much good she can also do with her new abilities. But for every good deed she does, trying to help the locals in Salem, it seems like evil has a way of tracking Defiance down. She'd much rather explore the cool new house she now owns, as well as explore the fiery chemistry between herself and her basement neighbor, Roane. But, evidently, the universe has other plans.
"Please don't feel obligated to, I don't know, be my bodyguard."
The grin that stole across his face seized my lungs. "Ms. Dayne, there is little on Earth I'd rather do than guard your body."
Every bone I owned, and even a few I didn't, dissolved.
Defiance and her quirky, lovable crew were back in Bewitched, up to all the mischief you would expect from a Darynda Jones novel. But it wasn't all hijinx and coffee references. There was room in the story for some shocking revelations, family drama, and even romance.
'It was all so much. Yet there was a part of it that felt right somehow. Like I was exactly where I needed to be.'
I was SO happy to lose myself in a new book by Darynda Jones. There is something about her writing–the humor, the flawed but well-meaning characters, the fast-moving storylines–that resonates with me. And I'm finding her Betwixt & Between series to be absolutely on point. It's part of the new(ish) Paranormal Women's Fiction, or PWF, genre which follows main characters who are a bit more mature, and revolves around a paranormal/fantasy storyline. In Defiance's case she was in her mid-forties. And being in that, ahem, age bracket myself, it was a fun experience to relate on that level with the heroine.
Bewitched was almost more of a transitional book, with Defiance finding out the details about her past, her family, and what it means to be a charmling. As truth after truth came out, she realized how much had been sacrificed to keep her safe, and how much Defiance still had to learn about her powers. That's when the family stuff came into play, as she confronted her grandmother and her fathers about her past. Through it all, though, I loved how strong the bond was between Defiance and her loved ones, as well as the lengths they would go to in keeping each other safe. Sigh…
I will say there wasn't quite as much action as in book one, Betwixt, but it wasn't any less exciting. Or comical. Defiance still had a heart of gold and tried to take care of everyone around her while figuring out her new normal. Her bestie Annette was right by her side and had her own changes toward the end of the book that she had to deal with. And it was lovely watching Defiance and Roane's slow burn of a romance take shape while they learned more about each other
There's so much to love about the Paranormal Women's Fiction genre, and Bewitched is a shining example of exactly how it should be done. With the promise of many good things yet to come, I can't wait to see how Darynda Jones wraps things up in book three, Beguiled.
Book Info:

Publication: Published September 28th 2020 | Feather & Leaf, LLC | Betwixt & Between #2
Forty-something Defiance Dayne only recently discovered she comes from a long line of powerful witches. Added to that was the teensy, infinitesimal fact that she is what's called a charmling. One of three on the entire planet. And there are other witches who will stop at nothing to steal her immense power, which would basically involve her unfortunate and untimely death.
No one told her life after forty would mean having to learn new lifeskills—such as how to dodge supernatural assassins while casting from a moving vehicle—or that the sexiest man alive would be living in her basement.
Whoever said life begins at forty was clearly a master of the underappreciated and oft maligned understatement.