Big Chance Cowboy by Teri Anne Stanley is the first book in the Big Chance Dog Rescue series. All I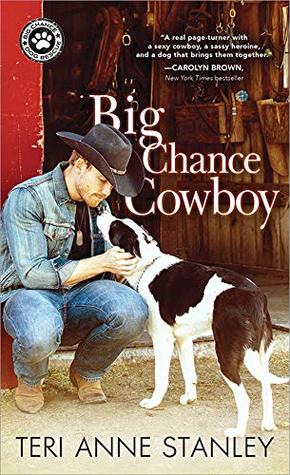 need to see is dog rescue in the title or description of a book and I have to have it.
Lizzie Vanhook is driving home to Big Chance, Texas with a broken heart encased with insecurities and great concern for her father receiving chemo treatments for prostate cancer. Her tire low pressure indicator comes on so she pulls into Big America Fuel which has a free air pump. She hesitates when she sees a big black dog with patches of fur missing sitting next to the air pump. But he is wagging so probably friendly. After all her tires are checked and pressure is good she and the Big America attendant surmise the indicator light clicked on incorrectly. The attendant tells her the dog has been hanging around for a while and gueses he was abandoned. They have been calling him D-Day. If he reports him he will be taken to a shelter and probably euthanized.
Lizzie doesn't like that idea at all but there is nothing she can do. Her mom doesn't allow dogs in the house. She hops in her car and as she is about to pull out of Big America Fuel she notices a large, black dog head looking at her in her rearview mirror. "That dog got into my car somehow." D-Day refuses to to get out of her back seat. Looks like he is going home with Lizzie. Little does she know that D-Day's arrival is just the beginning of big changes in her life.
This one was an absolute delight! There's humor, drama, a little mystery and lots of doggy kisses. Lizzie goes to her high school crush, Adam Collins for help training D-Day as well as a place to keep him since her mom wants him out of the house. Adam has PTSD after a very bad experience in Afghanistan with his team and IED detector dog. The author brings these two together with trials, smiles and great attraction. This is a beautifully written story and one I wanted to never end. I can't wait for the next installment in the series.

Book Info:

Publication: August 27th 2019 | Sourcebooks Casablanca | Big Chance Dog Rescue #1
At Big Chance Dog Rescue,
Even humans get a second chance
After a disastrous mistake disbanded his Army unit, Adam Collins has returned home to Big Chance, Texas. He just wants to sell the family ranch, set up his sister and grandfather with the funds, and then ride off into the sunset.
Lizzie Vanhook has landed back in her hometown, heartbroken and jobless. Adding to her troubles is the unruly stray who's claimed her as his own. Lizzie knows she's in over her head. Enter Adam—not only does he work with dogs, he's also tall, dark, handsome, and the one who got away…
Adam wants nothing to do with other people, much less dogs. But when his old flame asks him to help her train her scruffy dog, he can't say no. As his reluctant heart opens up, the impossible seems possible: a second chance with the woman he's always loved in a place where he, his friends, and the other strays who show up can heal and call home, Big Chance, Texas.