Big Sky River by Linda Lael Miller is a sweet and tender, small town, western romance, with lovable and endearing characters, that will draw you in and pull on your heartstrings.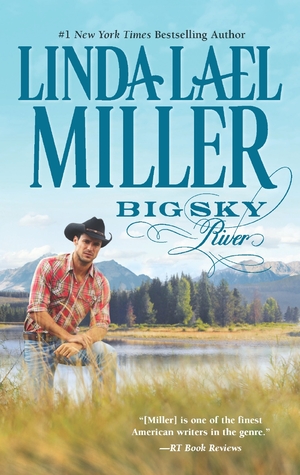 Sheriff Boone Taylor is still recovering after the death of his wife to cancer. Unable to care for his young boy's he sent them to live with his sister until he can once again properly care for them.  When an unexpectant accident happens to his brother in law, Sheriff Taylor must bring his boy's home and learn to care for them himself.
With all that is going on, the last thing that Boone wants or needs is to find romance in his life, especially with his neighbor, Tara Kendall, whom he finds extremely annoying, with her big city way's and her complaints about how he keeps his property.
Tara moved to Parable, Montana after an ugly divorce. She has given up her glamorous  life to try her hand at chicken farming.  She hasn't seen her twin step daughters in month's when she receives a call from her ex asking her if she will keep them for the summer. Tara is thrilled to do so to say the least.
The last thing on Tara's mind is starting an relationship with someone else, least of all with the infuriating Sheriff Taylor, with his messy yard and his red neck ways.
As Boone and Tara work on improving their family relationships they find that they are growing to like each other's company.  Will they be able to find love again after their upsetting pasts?
# 1 New York Times and USA Today Best Selling author Linda Lael Miller has penned an alluring romance that is sure to touch readers heart's with love and it's many complications.  Big Sky River is the third book in the Parable, Montana series, and while it can be read as a standalone, I recommend reading the first two books in the series Big Sky Country, and Big Sky Mountain to help understand the relationship between the secondary character's better.
If you're looking for a satisfying, family oriented, delightful romance with a western flair then Big Sky River is the book for you!
Rating:
Publisher: Harlequin HQN (December 18, 2012)
Sheriff Boone Taylor has his job, friends, a run-down but decent ranch, two faithful dogs and a good horse. He doesn't want romance—the widowed Montanan has loved and lost enough for a lifetime. But when a city woman buys the spread next door, Boone's peace and quiet are in serious jeopardy.
With a marriage and a career painfully behind her, Tara Kendall is determined to start over in Parable. Reinventing herself and living a girlhood dream is worth the hard work. Sure, she might need help from her handsome, wary neighbor. But life along Big Sky River is full of surprises…like falling for a cowboy-lawman who just might start to believe in second chances.