Looking for a little superhero in your romance novel? Want a little Lois and Clark action? Well, look no further than Nobody's Angel by Stacy Gail. It has all of that AND a super secret fortress!!!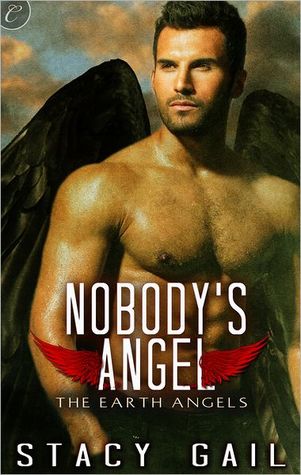 We meet Kendall Glynn. She's an investigative journalist. Now, I would imagine that writing a sympathetic investigative journalist is a pretty tough job. Usually, they're depicted as heartless jerks. But not so with Kendall. Sure, once she gets her teeth into a story, she's impossible to shake off. She's certainly tough and ballsy but she's also sweet and vulnerable. Kendall is on scene as a couple of her co-workers are doing a news story when things go terribly wrong and people are badly injured. In the aftermath, Kendall is treated for minor injuries by the sexiest paramedic she's ever seen…
Zeke Reece is a paramedic. Also, he's a Nephilim. You know, a half angel-half human? I'm sure some of us have read books featuring Nephilim in the past but this one is a little different. In Nobody's Angel, the Nephilim were destroyed by a big flood back in biblical days. Y'know, the one that lasted around 40 days, give or take? Yep, that's the one. But some survived and Zeke is a decendant of one of the survivors. Zeke believes that God/Heaven hates the Nephilim and (somehow) doesn't know that there are survivors of the flood. So he tries to keep a low profile (no flying unless its an emergency) and he works to keep San Francisco free from paranormal baddies. See, Zeke thinks that if he keeps them away, that God/Heaven won't take a close look at San Francisco and accidentally see that he exists. If they know he exists, he thinks he will be destroyed.
The attack that happened with Kendall arouses Zeke's suspicions about what prompted the attack. But Kendall saw something strange as well. As she's determined to figure out what the heck is going on and why he colleague flipped out like that. Because they are both, in their own way, hunting the cause of the attack, they end up crossing paths during the investigation and they get closer and closer.
You may be saying, "Ok, ok great but where's the secret fortress come in??" I really don't want to give away any more information that I already have, but I promise you that its in here! I don't have many complaints about this book. Only that it was WAY too short! I want more Zeke and Kendall! They were so great together! They had this great teamwork thing going on. Sure, he's more like the superhero and she's the human but somehow it works and they really DO make a great team! And oohh they are HOT together too!
I would honestly, truly read this book again. You've got some mystery, plenty of laughs and a tidy ending that still teases you about future books. And let's not forget about the hot stuff! Again, Kendall and Zeke have great chemistry and the Sexy Time is really hot between these two. It's a little bit of a slow build up but I didn't really didn't notice it because of all the other action going on. Please do yourself a favor and give this book a chance. I know you won't regret it!
Rating: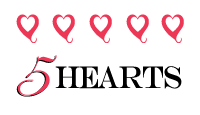 Book Info: Publisher: Carina Press (January 21, 2013)
Book one in The Earth Angels
Investigative journalist Kendall Glynn is horrified when a friend and colleague signs off permanently during a live newscast, jabbing a pen into his jugular. Kendall's no expert, but judging by the strange white veil in the anchorman's eyes, she would swear he was a man possessed.
A descendant of the accursed Nephilim, Zeke Reece prowls San Francisco by night, keeping the city free from paranormal phenomena. But even he is no match for whatever malevolent force is behind a recent rash of murder-suicides. And when a beautiful tenacious reporter becomes the next target, Zeke has no choice but to stay close to her, until he can find the evil spirit and cross it over.
The closer Kendall gets to the truth, the more danger she's in. Fortunately, a sexy and mysterious masked stranger keeps swooping in to the rescue. Kendall's life depends on finding who or what is responsible for the killings, before it finds her.
33,000 words