In Big Witch Energy by Kelly Jamieson, Romy Larson finds herself alone after her mother had died. Never knowing her father, she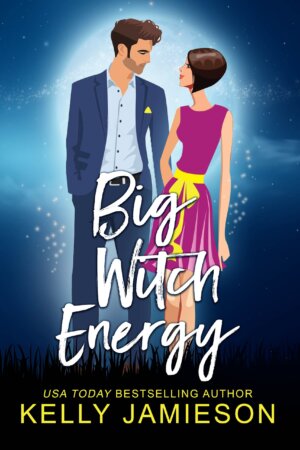 decides to take a DNA test with the hopes of finding some relatives. What she finds leads her to her father, step-mother, and two half-sisters, along with the discovery that she comes from a family of witches.
Trace Holcomb is a witch who lost his family when he was sixteen in an accident that he blames himself for. Having spent years trying to bring them back with no success, he's pretty much turned his back on magic. Then Joe, who is not only his boss but the man who took him in after his family died, asks him to train his newfound daughter in magic. The same woman he met in a bar after his date stood him up. The same woman he hasn't been able to get out of his mind since.
Both Romy and Trace are surprised to see each other again. As much as they are into each other, Trace feels he owes Joe and he can't let him down. He makes it clear that he can only train her and that there can be nothing more between them. Besides, she has to focus on passing her WED (Witch Equivalency Diploma). She only has a year to do so, or she loses her powers forever. But with all the time they have to spend with one another, will they be able to keep their feelings in check?
This is my first time reading a non-hockey book by this author. I normally don't read books about witches, but I enjoyed this story. Romy and Trace are both characters that readers can sympathize with, and they'll root for them to have their happy ending. I will say some of the humor was a bit cheesy, but it didn't take away from my overall enjoyment of the story.
There are many secondary characters introduced here that I hope the author will turn this into a series. I'd be interested in learning more about the half-sisters, and seeing more of Romy's two best friends, who are regular humans.
Big Witch Energy is a fun, charming story that will keep readers entertained. If you enjoy paranormal romances, especially those involving witches, then I recommend giving this book a read.
Book Info:

Publication: August 3, 2021 | Kelly Jamieson Inc |
Romy Larson
The tequila made me do it—throw caution to the wind to take a DNA test. Now I know why "who's your daddy" is a dangerous question. Dad's a witch, with a whole magical family I knew nothing about.
Discovering I have magic isn't the only shock (though it explains a lot). There's a familiar face among the noisy, joyful Candler clan. A fostered son named Trace—the only other time in my play-it-safe life I did something crazy. A night of madcap fun and sizzling kisses.
Trace Holcomb
For years, I've been trying in vain to find a spell to bring my family back after they died. I've given up on magic. What good is it if I can't do the one thing I want so much?
I mistook Romy for my blind date, and it was the best mistake I ever made. Or maybe it's the worst. When the other shoe—more like the hammer—drops, I learn she's part of the Candler family, who opened their big hearts to me when my family died.
Now it's up to me to run Romy through a crash course in remedial magic before she loses it forever. That's the last thing I want to do. As the smoke clears from her first disastrous spells, something else becomes clearer. Our attraction wasn't a fluke. And she could be the key to making my impossible dream come true.