Bold Love is the third book in the Forever Adirondacks by Lauren Accardo. This was the first book I have read by her, and I had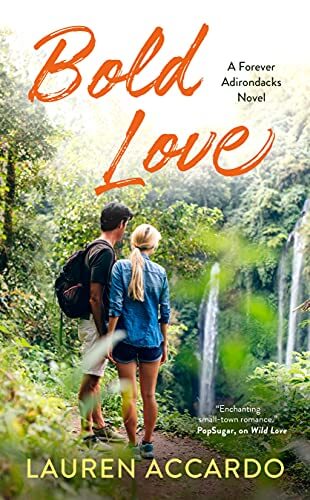 no problems reading it as a stand. The book takes place in the small town of Pine Ridge in the Adirondacks and had all the small-town happy feels. It was paced perfectly, had genuine and likable characters, and I loved all the descriptions of the scenery the author gave us. My attention was caught in the beginning and I could not put the book down.
Football star Denny Torres retired early while still in his prime, much to everyone's amazement. Playing football had lost its sparkle and he disliked the casual disregard some people had for the players' health. After living in Pine Ridge for over a year, his parents announce they are coming for a visit which puts Denny in a panic. He has always felt like he was a disappointment and never fit in with his family so now he hopes to make a good impression on them. Only his house was not furnished or decorated so he asks Bee to help him.
Bethany "Bee" Jones loved her life in New York City managing the Club Trade, but she was ready for a change. She had saved her money for years and was finally ready to pursue her dream of attending the London School of Arts and Design. Then her brother Isaac calls needing money, so she did what she always did and helped him. Denny's offer of a job decorating his house will give her the money she needs to go to London. Life was slower in Pine Ridge, but she came to see it for the beautiful place it was. Her heart was pulled in two directions, and she was not sure what she wanted.
This was a wonderful book for anyone who loves small-town romance. It was heartwarming, genuine, and had delightful characters. Bee and Denny had a lot of family dynamics they had to work through in order to obtain their future happiness. Denny wanted his parent's approval more than anything and was miserable while trying to make them happy. Bee was always helping others, especially Isaac, and she was tired of always helping people and then them leaving her behind. Bee had to stop enabling Isaac's behavior and set boundaries. Denny had to finally realize it was not important if his parents liked his house since it was his house and not theirs. I loved seeing Bee and Denny's characters grow and learn to be happy with themselves. This was a charming book and I recommend it if you love small-town romances.
Book Info:

Publication: January 25, 2022 | Berkley Books | Forever Adirondacks #3
Playing house in the mountains was supposed to be temporary, but a woman would have to be made of stone to resist the most eligible bachelor in Pine Ridge and all his small-town charm….
Denny Torres needs a break. After a series of embarrassments on and off the field, the Adirondacks provide the perfect hideout for his new, quiet, post-football life. The fresh mountain air is a welcome balm for his soul, but what's even more soothing? The sexy, sweet touch of fellow Pine Ridge newcomer Bethany Jones. If only she planned to stay….
Bee does not have time for a hunky former athlete–no matter how good he looks shirtless. Her artistic ambitions are in ruins, her brother is a disaster, and while Pine Ridge has its charms, the small town is nothing more than a pit stop on her way to getting back on track. Bee's just going to ignore the fact that when Denny offers her the chance to channel her creative energy into redesigning his house, she finds herself building the home–and the life–of her dreams.
With their time together coming to an end, Denny will have to move quickly to prove he can be the man Bee needs. Who better than a defensive back to knock down those walls?