His Lessons on Love by Cathy Maxwell is the third book in A Logical Man's Guide to Dangerous Women series. It's a battle of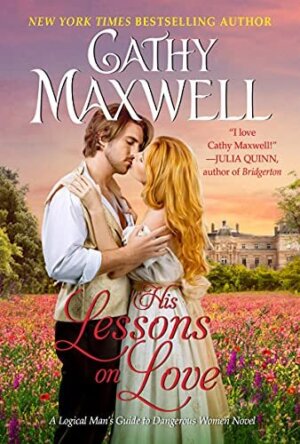 the sexes between the Matrons of Maidenshop and the single men of the Logical Men's Society that takes place in the small quaint village of Maidenshop. The Matrons are matchmaking again and the last of the Three Bucks, the three most eligible bachelors in the village, is about to meet his match.
The Earl of Marsden "Mars" realizes he is lonely after his two best friends get married, leaving him alone in his bachelor's state. Then his life is turned upside down when his ex-mistress leaves Dora, his unknown daughter, with him. He knows nothing about babies, but he is amazed when he realizes he has a daughter. Desperate for help taking care of Dora, Mars relents to the Maidens and hires Clarissa, his nemesis. When the opportunity to have revenge against the man who killed his father comes up, Mars knows he can count on Clarissa to take care of Dora.
Abandoned as a baby on the steps of the village church, Clarissa Taylor had always felt like the village's charity case. Growing up she spent her time blending in and serving the needs of the parish. After a failed engagement that had been arranged by the Maidens, Clarissa thought she had started a new life as a ladies' companion only to return feeling like a failure. However, the Maidens quickly come up with a solution; Mars needs someone to care for his daughter and Clarissa is the perfect person for the job.
"I've made my peace with the Matrons of Maidenshop. We do it their way and all is happy. – Book of Mars"
The books can be read as standalones but reading them all in order gives the reader a better understanding of the history between all the characters. Throughout the entire series, the animosity and tension between Clarissa and Mars could be felt. They were truly opposites of each other with Clarissa being the rule follower and Mars making his own rules. Mars thinks Clarissa is dull and judgmental whereas Clarissa thinks Mars is wasting his life and not being responsible. I really loved seeing them realize they are both wrong about each other. Their characters both grew considerably throughout the book, and I loved watching their relationship change as they grew closer.
I really looked forward to this book and I think it was the best one of the series. It was beautifully written, full of humor, and had wonderful characters. I loved the epilogue where all the characters returned to Maidenshop for the yearly Cotillion Dance. It was the perfect ending for the Logical Men's Society and the series.
Book Info:

Publication: January 25, 2022 | Avon | A Logical Man's Guide to Dangerous Women #3
Lesson #1: A man, even titled and handsome, cannot be careless forever.
The Earl of Marsden—better known as Mars to all—has lived his life by his own rules… until he is presented with a very big problem in a very tiny package—a baby girl, his daughter, cast off by his ex-mistress. Mars won't let his child be cast adrift, except he doesn't know the first thing about babies.
Panicking, he turns to a woman for help. Not just any woman, but Clarissa Taylor, village spinster, matron-in-training, and Mars's greatest critic. Still, who better to tend a motherless child than a woman who was abandoned as a babe herself?
Lesson #2: Life always plays the upper hand—especially when it comes to love.
Clarissa desperately wishes to not to be beholden to anyone. She has spent a lifetime being pitied by the village. Her plan is simple—to use what the intolerable earl will pay her to become her own woman. It all sounds so straightforward until the threat of scandal sends her and the one man she can't abide toward… marriage?
Mars and Clarissa are about to learn the greatest lesson of all—that sparks always fly when the iron is hot.