Bombshell by Sarah MacLean is the first book in the new Hell's Belles series. There was plenty of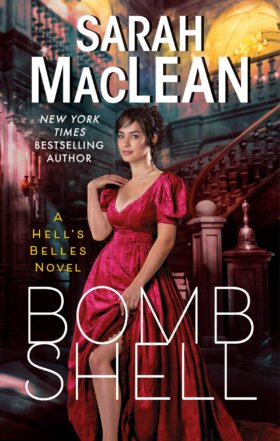 intrigues and twists n turns though to keep me reading until the end.
Lady Sesily Talbot was known as "Sexily" by society for her scandalous ways. Her reputation served her well by covering up her schemes. Two years prior she had become part of the Duchess of Trevescan's team which worked towards bringing justice to men who were abusive. Sesily is caught one night by Caleb after one of their escapades and now he keeps appearing everywhere. The duchess's newest endeavor was to expose Viscount Coleford and his crimes against the Foundling Hospital. Sesily is also tasked with uncovering Caleb's secrets.
After working hard, Caleb Calhoun has become a wealthy man in Boston. He is also a partner with Sera, Sesily's sister, in a tavern named The Singing Sparrow in London. He tries not to notice Sesily's charm because Sera is his friend, but it was impossible. He resists the temptation of her staying in Boston. But Sera was having a baby and Caleb promised her he would come to London. Coming to London though, he risks his secrets from his past being exposed.
The book started out great, seemed to slow down in the middle, but quickly picked up at the end. The storyline was good, but I feel like the book had more potential. For me, there were several items that kept it from reaching that potential. It was a historical romance taking place in the 1830s but the book had more of a contemporary feel. There were too many modern terms used and the women were more restricted than portrayed in the book during that time frame.
I have enjoyed Sarah MacLean's books over the years but recently I feel they have become darker. Her heroines are always dauntless and ready to take on the world to right injustices, but they seem reckless and not realistic.
This was not a light fluffy book to read so if that is what you are wanting then this is not the book for you. There was some witty banter but not enough to leave a smile on your face in the end. I feel like this is one of those books that there is no middle ground; you either love it or hate it. Although it is not my favorite book by Sarah MacLean, I look forward to the next book and hope it will be better than this one.
Book Info:

Publication: August 24, 2021 | Avon | Hell's Belles #1
After years of living as London's brightest scandal, Lady Sesily Talbot has embraced the reputation and the freedom that comes with the title. No one looks twice when she lures a gentleman into the dark gardens beyond a Mayfair ballroom…and no one realizes those trysts are not what they seem.
No one, that is, but Caleb Calhoun, who has spent years trying not to notice his best friend's beautiful, brash, brilliant sister. If you ask him, he's been a saint about it, considering the way she looks at him…and the way she talks to him…and the way she'd felt in his arms during their one ill-advised kiss.
Except someone has to keep Sesily from tumbling into trouble during her dangerous late-night escapades, and maybe close proximity is exactly what Caleb needs to get this infuriating, outrageous woman out of his system. But now Caleb is the one in trouble, because he's fast realizing that Sesily isn't for forgetting…she's forever. And forever isn't something he can risk.