Don't Look Now by Mary Burton: Jordan Poe is a relatively new homicide detective in Austin,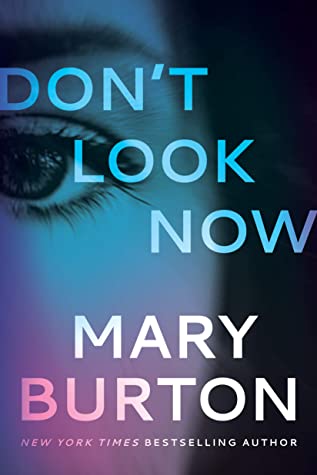 Texas. She has an excellent solve rate. She is called to a crime scene where the victim has suffocated and is totally wrapped in plastic. When a second victim is found the same way it looks like this is the work of a serial killer. Jordan is a very determined woman. Even when she is injured at a crime scene and loses most of her eyesight she still wants to work the case. Can she get Texas Ranger Carter Spencer on board?
Texas Ranger Carter Spencer has an excellent reputation for solving serial murder cases. He is called in to investigate the deaths in Detective Jordan Poe's plastic-wrapped victims death case. Carter recognizes that Jordan isn't going to let this case go so they make an agreement to cooperate within the lines of Texas Ranger jurisdiction. Carter admires Jordan's dedication and ability and finds himself surprised at how attracted he is to her.
In Don't Look Now by Mary Burton there is an evil serial killer on the loose. Bodies of suffocated women totally wrapped in plastic are showing up around Austin. Austin Homicide Detective Jordan Poe is the investigating officer until her boss turns the cases over to the Texas Rangers. Ranger Carter Spencer is given the case. Jordan manages to continue investigating so Carter starts working with her. There's lots of action and suspense in this book. The storyline is solid and provides edge-of-your-seat suspense. I really enjoyed this book. Author Mary Burton writes superb suspense stories!

Book Info:

Publication: September 28th 2021 | Montlake | N/A
A homicide detective in the dark. A serial killer on the loose. Both have their obsessions in a nerve-twisting novel of suspense by New York Times bestselling author Mary Burton.
Austin homicide detective Jordan Poe is hunting a serial killer she fears is the same man who assaulted her sister, Avery, two years ago. The details line up: the victims are the same age, same type, dead by the same grim MO. Luckily Avery survived. But the terrible memories linger, making Jordan more determined than ever to stop this monster in his tracks.
Texas Ranger Carter Spencer isn't one to poach on a detective's territory. Yet no matter how resentful a capable lone wolf like Jordan is, when she is attacked at a third crime scene and suffers a trauma that leaves her with limited vision, it's up to Carter to help Jordan navigate a world she no longer recognizes. He needs her instinct, her experience, and her fearless resolve to crack this case. A case that's about to get even darker.
A stranger is watching. He's closing in on his ultimate prey. And no one but the killer can see what's coming.