Born to Be a Cowboy (Montana Strong #3) by R.C. Ryan: Be prepared for lots of surprises in this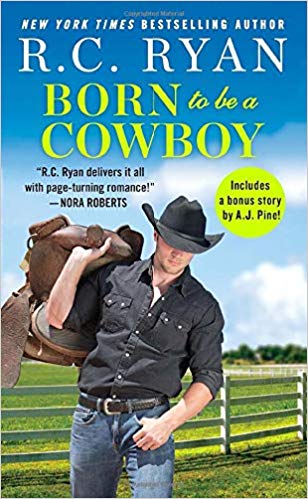 story! Ms. Ryan will delight readers with this small town romantic suspense story.
Finn Monroe has come a long way from his hellion days as a boy. Thanks to being adopted, along with his two brothers, by Mackenzie "Mac" Monroe Finn learned the error of his ways and now is an attorney in his hometown of Haller Creek, MT. When a beautiful woman walks into his office asking for help Finn never suspects the encounter will lead to mystery, danger and love.
Jessica "Jessie" Blair was desperate for help and someone to believe her. Supposedly her Aunt Nola who is like a mother to Jessie because she raised her from the age of five after the death of her parents, her Aunt Nola fell in love and got married to a newly hired ranch hand a couple weeks ago and is now away on her honeymoon. But Aunt Nola never told Jessie she was getting married and she isn't answering Jessie's calls. Jessie just knows something is wrong. She approaches Finn to help her get information on her aunt's "new husband" since his last know address was in Holler's Creek. Finn is skeptical but can't turn Jessica away. As he looks into Jessie's story Finn believes she has reason to be concerned. Plus he is super attracted to her and wants to spend time with her to get to know her better.
Born to Be a Cowboy is the third book in author. R.C. Ryan's Montana Strong series. I haven't read the first two books in the series but I really liked this book so I plan to read the first two. R.C. Ryan's characters are very likeable. The storyline is fast-paced and filled with mystery and suspense. I really enjoyed the family scenes. They are filled with fun, compassion, support and much love. I believe R.C. Ryan has a real winner here. Readers who enjoy small town romance with lots of mystery and action will want to read this book.
Book Info:

Publication: November 26th 2019 | Forever | Montana Strong #3
This New York Times bestselling author delivers a "page-turning romance" (Nora Roberts) about a woman in jeopardy who finds protection–and love–in the arms of a small-town cowboy.
After running wild in his youth, Finn Monroe is now on the other side of the law as the local attorney. Between his practice and working at his family's ranch, his days aren't as exciting as they used to be–until Jessica Blair steps into his office. Gorgeous and determined, Jessie has a hunch her aunt is in trouble, and Finn is her last hope. As someone who relies on facts rather than feelings, Finn is skeptical. But it can't hurt to do a little digging.
Jessie knows her aunt, and there is no way she would disappear on an "extended honeymoon" after hastily marrying a smooth-talking cowboy. Something is wrong, and Jessie is going to find out what. As soon as she and Finn start poking around, it becomes clear someone is willing to go to great lengths to keep them from the truth. But as the danger grows, so does their attraction. With both their lives on the line, Finn will discover just how far he'll go to keep Jessie safe.
Includes Cowboy to the Rescue, a bonus novella by A.J. Pine!