Bossed by Sloane Howell: With each new bill, Jenny's stress levels rise. She desperately needs a new job and she's hoping that Mason and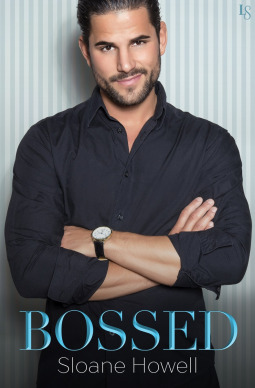 Associates will be the answer to her prayers. She's a devoted daughter and obsessed with baseball. Jenny has bonded with her dad over the sport and they constantly try to one-up each other with their fantasy teams. Her love of baseball and fascination with numbers make the sports agency a great fit.
Ethan turned his love of baseball into a top notch sports agency. He loves numbers and the challenge of getting the best deal possible for his clients. He runs a tight ship where mistakes are rarely tolerated. Ethan is intense, intimidating, smart, sexy, and confident.
Jenny is shocked and dismayed to see that the sexy and infuriating stranger she just ran into just so happens to be Ethan and the person who will be interviewing her. They immediately take their positions and bait each other. Both give as good as they get, which somehow results in Jenny getting the job. She challenges him like no one else does, in or out of the office.
"You have work to do."
I nodded and turned to Matt. "It was nice to meet you. I need to go study some batting averages now. In case my boss screws up." My nose crinkled and I continued my mocking tone. "He does that on occasion."
They push each other's buttons and as they try to fight an attraction that burns bright between them. While it's not against the rules, they know it would be a really bad idea to even attempt any sort of relationship. They battle themselves as much as they battle each other and both enjoy their encounters. When they finally do cross that line, they get to see another side of each other.
"See you tomorrow?"
She opened her door and nodded to me. "At work."
"Fine. Make us work." I started down her steps. "Ruin all the fun, Jenny. Always so serious."
Bossed is a sexy battle of wills. Sloane Howell created a fun workplace romance that will entertain you with great banter and interfering friends. Mr. Howell featured interesting secondary characters and strong relationships. Fans of Jenna Bayley-Burke and Lorelei James will enjoy Bossed.

Book Info:

Publication: Expected publication: March 28th 2017 | Loveswept |
He's the boss. But she's ready to take charge.
In this provocative and sexy* office romance, a cheeky new hire tempts a hotshot sports agent to mix business with pleasure.
Jenny: Job interviews are a bitch under the best of circumstances, but when your potential boss is the world's biggest prick, that's when you should simply walk away. It's just that I need this job so badly—and I'm mesmerized by Ethan Mason's piercing gaze. Men like him aren't supposed to exist in real life. But under the tailored suits and GQ looks, Ethan simmers with barely restrained ambition. And no matter how hard I work to fight the attraction, I'm going to get burned.
Ethan: You don't become a top agent without learning how to close a deal. I always get what—or who—I want, by staying cool and in command. Then Jenny Jackson walks into my office with her lush curves and "screw you" attitude and blows away my intentions of keeping things professional. All I can think about is exploring the perfect body hidden beneath those conservative clothes or shutting her saucy mouth with one hot kiss. Jenny's worth breaking the rules over—if I can convince her to break the rules for me.
*By sexy, we mean sexy. Like, 18+ sexy.