Stealing Mr. Right by Tamara Morgan: Being married to an FBI agent, and a damn good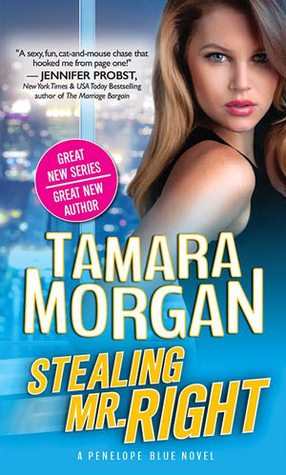 one at that, isn't all its cracked up to be, not when you're a jewel thief; and especially when feelings have grown that never should have. Penelope figured marrying Grant was the perfect way to keep track of the man tracking her crew, as well as find out what he knows about her father's mid-heist disappearance.
As Grant and Penelope's jobs get even more mixed up with her most recent heist, truths might finally force their way out of the woodwork. And Penelope will be caught between new and old loyalties.
From the beginning, Grant has been far more than Penelope ever expected, and she's going to have to learn who's really been the one in charge of the game.
Stealing Mr. Right was adorable and I really did enjoy it –although I could've done without the shifting back and forth in time. I always feel that's unnecessary. But even so, I loved Penelope and Grant's romance. Penelope was definitely fun to follow and, even as the thief part always seem silly, it makes for an entertaining story.
Grant just captured my heart alongside Penelope's, his sweetness, protective instinct, and just his respect for Penelope. Plus, the game between them, playing with the truth and the tug back and forth considering they refuse to admit the truth to one another. Instead, they let the romance sweep them along, both delighting – and hurting – from it.
For those who love a fun story I highly recommend Stealing Mr. Right, it's the first in a series I definitely plan on following.
Book Info:

Publication: March 7, 2017 | Sourcebooks Casablanca | Penelope Blue #1
I'm a wanted jewel thief.
He's FBI.
What's that saying? Keep your friends close…and your husband closer.
Being married to a federal agent certainly has its perks.
1. I just love the way that man looks in a suit.
2. This way I always know what the enemy is up to.
Spending my days lifting jewels and my nights tracking the Bureau should have been a genius plan. But the closer I get to Grant Emerson, the more dangerous this feels. With two million dollars' worth of diamonds on the line, I can't afford to fall for my own husband.
It turns out that the only thing worse than having a mortal enemy is being married to one. Because in our game of theft and seduction, only one of us will come out on top.
Good thing a cat burglar always lands on her feet.