Bound by a Nine-Month Confession by Cathy Williams is an enjoyable feel-good romance centred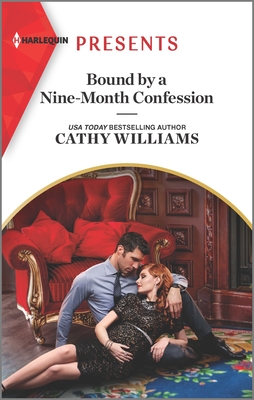 around a surprise pregnancy.
Talented wedding dress designer Celia is shocked when her client announces she's no longer going to be marrying her fiancée. Why? Because she's fallen in love with Celia's brother. To add more shocks, the jilted fiancée Leandro comes looking for Celia's client; but not for the reasons one might expect. With both her client and her brother going to ground soon after the announcement and eventually Leandro's sources find out Celia's brother and client are on their way to Leandro's Scottish home. Reluctantly agreeing to accompany Leandro to Scotland leads to being snowed in and a beautiful night together.
A talented Presents writer will craft the most outlandish story and make it work. Cathy Williams really achieved this. She made the plot work and it flowed along beautifully. I really had the feels you get when reading a retro Harlequin, which I enjoyed. Both lovely characters who met in the most unlikely circumstances and gelled. Nothing was confusing. The love built up and the conflict was resolved nicely.
I enjoyed Bound by a Nine-Month Confession and I would recommend it to anyone who loves a beautiful build between two solid characters and feel-good factor.
Book Info:

Publication: August 2022 | Harlequin Presents |
After billionaire Leandro insists she accompany him on a trip to Scotland, Celia is wholly unprepared for the passion that ignites between them. It's even more of a shock to find herself holding a positive pregnancy test weeks later!
When Celia confesses the truth to Leandro, he's determined to be the parent he never had. Celia stopped dreaming of happily-ever-after when she was jilted years before. But now she's bound to Leandro by their baby, and they have nine months to decide if their connection can make them a family…