Bound by her Ring by Nicole Flockton, Jasmine Anderson is trying to piece together the last year of her life after a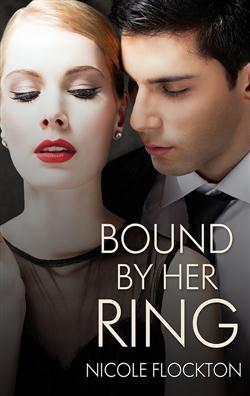 horrible accident. She has no memory of what happened including who she is married to. She longs to find out who placed the beautiful rings on her finger but no one knows who she was seeing. In walks handsome Luciano Morelli at a work event and she wonders if he could be the one…her attraction to him is instant and she feels like she knows him. When she is forced to spend time with him on a business trip, she realizes how intense her feelings truly are and hopes to finally get her memory back so she can move on with her life. And this time hopefully it will be with Luciano.
"He wanted to be gentle but he couldn't. His need for her was too great. But she answered his passion with a passion of her own, her lips meeting his and answering his every call."
Luciano feels betrayed and abandoned after Jasmine seemingly cut him out of her life. He plans to get revenge on both her and her father who he thinks is truly behind what happened. However, the more time he spends with Jasmine, the more he wonders if she may actually be telling the truth. He is used to being sure of his actions, having a plan set in place but his emotions are clouding his judgement. He finds himself having to decide if he should take a chance on love and risk being hurt again or react as the shrewd businessman he really is.
"Finally the tears subsided, but he didn't loosen his hold. He cupped her face and lifted it slightly until her eyes met his. The remnants of her tears sparkled like the diamonds they'd seen today."
Nicole Flockton has written a touching novel full of secrets, suspense and passion. The main characters are bewildered by the events that took place and are each trying to find the truth. Jasmine is a strong, creative, loving person who any man would be lucky to have as a wife. Luciano's personality is a wonderful balance to hers: he's smart, tough, protective and fiercely loyal. This is a quick read with beautiful prose that fans of contemporary romance will enjoy.
Rating:
Book Info: Publisher: Escape Publishing – Harlequin Enterprises, Australia Pty Ltd (February 1, 2013)
Luciano Morelli has perfected a plan to get revenge on his runaway wife; confronting her at the opening gala for her father's hotel. What he didn't plan on was the flaring of emotions the moment he sees her again.
Jasmine Anderson has no memories of her husband. Her only link to him is the wedding rings she wears. Luciano storms back into her life announcing he is her husband, demanding she join him on a business trip or see her father's livelihood crumble.
Passion reignites as they rediscover what first drew them together. But more than just memories are lost. Can their bond be rebuilt or will secrets infect their already shattered trust?