The Outlaw's Heart by Amy Sandas is the third book in the Runaway Brides series and the first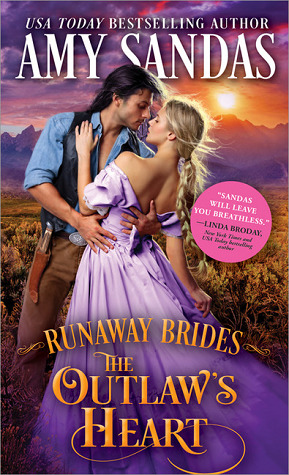 book I have read of this author. I don't usually read books that have settings in America because they don't typically keep my attention, but this book drew me in from the first chapter. I could feel Eve's pain, humiliation, the return of her hope and the desire to survive.
Evelyn "Eve" Perkins was receiving care from a young maid for the lashed skin on her back, given to her by her husband's whip. In the months since her marriage to Matthew, she had become numb to the pain from his whip. She had tried to discover what she was doing wrong, but Matthew always found something to punish her for. She was realizing that he would never stop until he eventually killed her. The maid suggested she "disappear", and the more Eve thought on it the more she became convinced she had no other choice if she wanted to survive. A mistake of identity finds her in the company of outlaws.
Gabriel Sloan is given the task of escorting her to the outlaw's hideout. Gabriel could see her fear and her determination to not be ransomed. Until Eve had entered his life, he had led a solitary life preferring not to become attached to anyone. He was concerned by the feelings he had for her and furious when he learned of her husband's treatment of her. He wanted to turn her and her care over to their leader, Luke as soon as he could. As Eve soul starts to heal, she slowly starts to trust in Gabriel and in herself again. Gabriel vowed to keep her safe and was determined to give her the freedom to make her own choices.
Gabriel was so stoic but was such a devoted, caring hero. He was so patient and took such good care of Eve. Even though they were both quiet people they were so connected to each other they didn't need a lot of words to communicate. The author did a great job developing the characters and making the readers feel all the character's emotions. I am so glad I discovered this author and plan on reading the rest of the series and her other books.
Book Info:
T

Publication: October 29th 2019 by | Sourcebooks Casablanca | Runaway Brides #3
Three runaway brides
Determined to escape their fates
Flee West to find freedom that can only be had
in a cowboy's arms…
Desperate to escape an unhappy marriage, Boston socialite Evelyn Perkins flees west in hopes of losing herself to the dusty frontier. But when her train is boarded by outlaws, Evelyn is taken for ransom. Despite her terror, Evelyn fears being returned to her husband more. Refusing to co-operate, she becomes the responsibility of a man whose steady gaze threatens to pierce her brave façade and reach the wounded heart within.
Gabriel Sloan has his orders, but the haunting shadows in the pretty young woman's eyes spark an intense protective instinct he can't deny. Every look, every touch brings them closer together. He would do anything to protect her, but dangerous men are on their trail, and soon the two must face Evelyn's darkest nightmare―or risk losing the unexpected joy they've found forever…