In Bound to her Desert Captor (Conveniently Wed #5) by Michelle Conder (HQN), Regan James is a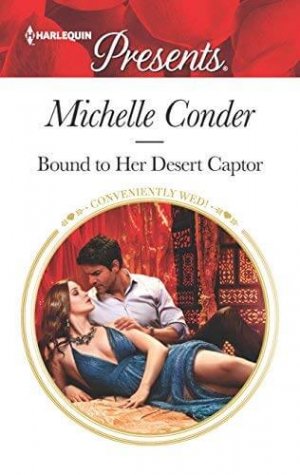 good sister. So, when she can't get into contact with he brother, she's determined to discover what happened to him. However, finding him isn't so easy, especially when she finds herself kidnapped by Sheikh Jaeger. Forced to work with him to find their siblings, Regan never imagined she'd fall for the man. But when it's time to go their separate ways, will Jaeger break her heart or will he convince her to take a chance on him?
"The fact is, there's no way I can pose as your fiancée. I'm not royal, or a supermodel. I'm an ordinary school teacher. Everyone will know instantly that I'm a fraud."
"You're not ordinary and I don't want you to pretend to be anyone but yourself. As a teacher you must be used to standing in front of large groups of people. I'm sure this won't be any different."
This book was such an interesting and extremely fascinating read, as the hero is royalty and finding his perfect match has never been a possibility. Since in his world most royals marry for beneficial reasons and not for love and why should he and his family be any different. The way this story started had me liking the heroine immediately, as family is important and it's palpable she'll do anything for her brother. However, it was from the moment where the hero and heroine come face-to-face for the first time in this story where things get very interesting since the heroine isn't like the women he's used to. She doesn't fall for his charm and the fact that he's a powerful man. Will Jaeger be able to win her over?
With the main characters, the heroine is confident, kind, caring, resilient and I liked how she challenges the hero with her sassiness. I also liked how far she was willing to go to make sure her brother was all right, especially since he's gone off with the hero's sister and she wants to find him to make certain nothing has happened to him. Yet, what I liked most of all about the heroine was how she stood up to the hero when she didn't agree with something. How could anyone believe that they were a couple when they're complete opposites? While the hero, he's confident, persistent, likes to get his own way and I liked how determined he was to win the heroine over, even though it felt like manipulation was the only way he was going to get her to see his way. Really, what is she willing to do for her brother?
"Will you have me, habiba, flaws and all?"
"Only if you'll have me, flaws and all."
"You have none."
Regan laughed. "Now I know you really do love me because I have loads."
Overall, Ms. Conder has delivered a really captivating read in this book where loyalty counts; the chemistry between the main characters was strong and heady from the moment they meet, even though the heroine does everything she can to deny that she feels anything for him; the romance proves how good opposites attract; and the ending left me completely satisfied because the hero will do anything to make things right with the heroine. However, it was the epilogue that wrapped this story up wonderfully, as the hero and heroine are so happy together. I would recommend Bound to her Desert Captor by Michelle Conder, if you enjoy the opposites attract trope or books by authors Sandra Marton, Penny Jordan, Annie West and Melanie Milburne.

Book Info:

Publication: July 1st, 2018 | Harlequin Presents | Conveniently Wed #5
Captive to the sheikh…seduced by his touch!
Certain that Regan James has information on his sister's disappearance, Sheikh Jaeger steals her away to his palace. He doesn't expect compliance from his beautiful captive, but when defiant Regan accidentally causes a media storm, it must be resolved. How? He'll have to marry her! Their engagement is for appearances, but the electricity sparked by their passion feels exquisitely – and dangerously – real..