One for the Rogue (Studies in Scandal #4) by Manda Collins: Aha! The "Battle of the Sexes" is alive and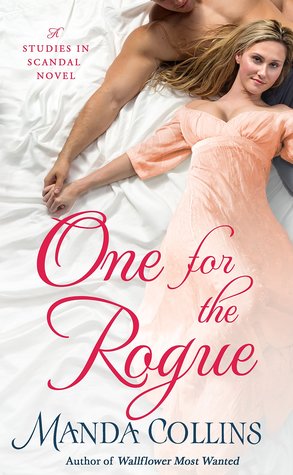 well in Regency England! It seems that Lord Cameron Lisle, well-regarded fossil hunter and geologist, is not quite ready to accept geologist Gemma Hastings as his peer.
Gemma is one of four young ladies, considered bluestockings, who has inherited Lady Celeste Beauchamp's estate. It takes Cam getting to know Gemma better as well as threats to her to enlighten him enough to appreciate Gemma's personality and abilities. Both of these two characters initially declare that they plan to never marry. Will they feel the same by the end of the story?
This is the fourth book in author Manda Collin's A Studies in Scandal series. Manda Collins delivers a clear plot along with action and suspense and some sweet love scenes. Her characters are very likeable and remain consistent throughout the series. This is a fun read and one I definitely recommend.

Book Info:

Publication: June 26th 2018 by St. Martin's Paperbacks | Studies in Scandal #4 |
Geologist Gemma Hastings has no interest in pursuing romance—and no patience for Lord Cameron Lisle, an esteemed fossil hunter who has a way of always honing in on her territory. . .annoyingly handsome though he may be. But when a shocking attack puts Gemma in very real danger, she may have to accept Lisle's offers of protection. Even if that means entering into a dangerous flirtation. . .
Lisle was once amused by Gemma's dedication to her work. But now that he understands how much he's underestimated her—a woman whose beauty is matched only by her genius—Lisle is desperate to prove his respect…and prove himself worthy of her. But is he too late? A bitter rival, desperate to steal Gemma's scientific findings, is still at-large. Can Lisle help uncover the culprit and keep her safe—forever, in his loving arms?