Devoted to Pleasure by Shayla Black: Cutter is former military and now works in security. His job often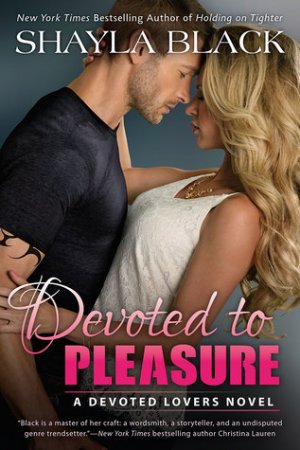 involves traveling outside the small Southern town where he grew up. He's a devoted son, brother, and best friend. He's very protective, stubborn, and willing to do just about anything for someone he cares about.
Shealyn is used to a much simpler life than the glitz, glamour, and constant attention of Hollywood. She enjoys being an actress, but the constant scrutiny, games, and need to maintain an image can be draining. It doesn't help that she has a fake romance with her on-screen leading man and she's currently being blackmailed.
While he may hate LA, protecting the gorgeous Shealyn shouldn't be too difficult…at least until he meets her. Shealyn is private, guarded, stubborn, and refuses to give him all the details he would want to truly protect her. They very much disagree on how to best protect her or the seriousness of the threat she's facing, but there's an underlying current that both try to ignore between them.
"And you're a protector. Got it."
"Yeah." He caught up to her and stared until she met his gaze. "So let me protect you."
She groaned. "Not this again."
"That refrain will be on constant repeat until you let me in."
Cutter is a consummate professional, but Shealyn tempts him to break all his personal and professional rules. She gets to him like no one else and they bond over their similar experiences growing up in small towns. Shealyn doesn't trust easily, but Cutter is persistent and makes her feel safe. As the danger increases, they have to fight their growing feelings.
"I'm going to kiss you," he whispered. "I shouldn't. You might hate me for it. If you don't want this, say so. Push me away."
Her fingers on his shoulders tightened. She hesitated, blinked up at him. Then her gaze fell to his mouth. Her eyes slid shut.
Cutter swallowed. That was all the invitation he needed.
Devoted to Pleasure has thrilling suspense, heat, drama, angst, and a forbidden romance. Shayla Black created an engaging story with intriguing suspense. Ms. Black created a cast of characters that is a mix of old, from the Wicked Lovers series, and new. Devoted to Pleasure is the first book in a new series and I'm looking forward to where this series goes next. Fans of Lexi Blake, Roni Loren, and Lisa Renee Jones will enjoy Devoted to Pleasure.

Book Info:

Publication: Expected publication: July 3rd 2018 | Berkley | Devoted Lovers #1
The first in an all-new sexy contemporary romance series from New York Times and USA Today bestselling author Shayla Black.
Bodyguard and former military man Cutter Bryant has always done his duty–no matter what the personal cost. Now he's taking one last high-octane, high-dollar assignment before settling down in a new role that means sacrificing his chance at love. But he never expects to share an irresistible chemistry with his beautiful new client.
Fame claimed Shealyn West suddenly and with a vengeance after starring in a steamy television drama, but it has come at the expense of her heart. Though she's pretending to date a co-star for her image, a past mistake has come back to haunt her. With a blackmailer watching her every move and the threat of career-ending exposure looming, Shealyn hires Cutter to shore up her security, never imagining their attraction will be too powerful to contain.
As Shealyn and Cutter navigate the scintillating line between business and pleasure, they unravel a web of secrets that threaten their relationship and their lives. When danger strikes, Cutter must decide whether to follow his heart for the first time, or risk losing Shealyn forever.