Brave Enough by M. Leighton: After growing up in a world of wealth and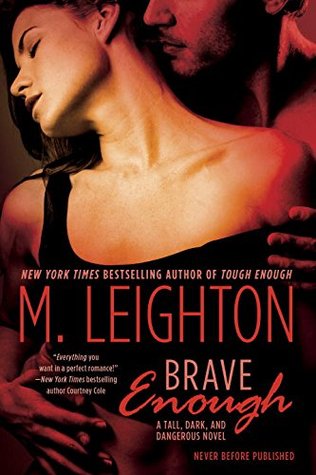 privilege, Weatherly runs back to her family's vineyard in a bid for more time while trying to keep herself out of her father's business deal. She has no interest in getting married for the business, but she might not have a choice when the funding for her foundation is at stake.
Tag's family has worked the vineyard for years. After being in the military and special forces, he's back as the caretaker and to stay close to his mom. It's been years since they have even caught more than a glimpse of the other while at the vineyard, and time has been good to both of them. Their attraction is immediate and Weatherly might be ready for a change in pace with Tag.
I arch one brow. "What I'd like to know and what you're willing to tell me are two very different things, I imagine."
"Then what do you think I'm willing to tell you?"
They banter back and forth as both consider acting on that attraction. Weatherly can be herself with Tag instead of the perfect daughter who doesn't put a foot out of place. They enjoy touring the vineyard and exploring their attraction. They can have lazy days and steamy nights as they make the most of their fling.
"Sounds like a trip I don't want to miss."
"Oh, so that's what it takes to convince you," Tag complains, flopping down on top of me. "It wasn't enough that you get to spend the day with me."
But things change when some unexpected visitors show up at the vineyard. Both Tag and Weatherly are unprepared for the path they chose as their pretend engagement suddenly feels very, very real.
Brave Enough is an engaging, sexy read that keeps you wondering when all the pieces of the puzzle will fall into place. M. Leighton provided great banter and interactions between Tag and Weatherly. Ms. Leighton also provides some surprises along the way with interesting family dynamics. Brave Enough can be read as a standalone in the Tall, Dark, and Dangerous series. Fans of Roni Loren and Lauren Smith will enjoy Brave Enough.
Book Info:

Published: April 5th 2016 | Berkley | Tall, Dark, and Dangerous #3
From the author of the New York Times bestselling Bad Boys novels comes another dark, sexy story…
Is she brave enough to give her heart to a man she only thought she knew?
He was the most charismatic man I'd ever met. Strong, tough, brave. Bold as hell. Something told me Tag Barton could have anything—anyone—he wanted…and he wanted me. It didn't matter that he was wrong for me in practically every way possible. It didn't matter that my father would hate it.
I couldn't resist him. Even if I'd known who he really was and what he was really capable of.
When he suggested we pretend to be engaged, I thought he was the answer to all my problems. He wasn't. And, in his wake, he left nothing but scorched earth and me, just another casualty of my father's war.
Can I believe him now when he tells me he loves me? Or is he nothing more than a beautiful, breathtaking lie?