Heart Like Mine by Maggie McGinnis is an amazing read with captivating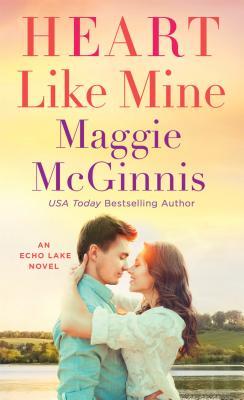 characters, realistic struggles and is filled with romance, between two unlikely people.
Every department at Mercy needs their budget trimmed and the CFO gives Delaney the chance to do the cutting since this department means so much to her. She has one month to trim the pediatric budget in a big way otherwise her job and the department is in danger.
Josh is the head of pediatrics and doesn't have time for anyone but his patients. He's extremely dedicated to his job and he really cares about the people who enter his department; the patients and his workers. When Delaney tracks him down, he is in disbelief because there is no way they cut anything from the budget and he's genuinely surprised about how attracted he is to Delaney. He doesn't have time for relationships especially after the last one ended sourly and now he has to fight his attraction to her while making sure she knows how much of a disaster the department will become if anything gets cut.
Delaney might be in the finance department but her heart is in pediatrics. She's the one that has been keeping that department floating with all the grants and proposals she's been pulling in for the past five years. Too bad Josh didn't think to do his research. If they are going to get through this they need to work together.
Delaney knows what it's like to have a doctor in the family. Her dad is a gifted surgeon and she remembers exactly what her mother went through with his long hours. She doesn't want that for herself. She wants to find a nice guy who works the nine to five shift, but love doesn't work that way. Even though Delaney and Josh fall in love quickly, their love is fierce. It's not something to be taken lightly and they both can't fight their feelings anymore. Too bad there are ramifications of them becoming involved.
I loved almost everything about this book! The cover, the compelling characters who warm your way into your heart, their struggles to find a resolution that fits both their needs and their journey to find love. The only thing I didn't care for was Josh's friend Molly. I didn't like her in the previous book either. Molly's quick to judge people and always thinks the worse about people. Even with Molly, this book is definitely a winner!
Book Info:

Publication: April 5th, 2016 | St. Martin's Paperbacks | Echo Lake #2
Delaney Blair loves her job at Echo Lake's Mercy Hospital, where she's developed a reputation for being smart, fair, and driven. When she's assigned to cut funding, she has to temporarily relocate her office, put on borrowed scrubs, and go toe-to-toe with Dr. Joshua Mackenzie, the interim head of the pediatrics department. His killer smile and rock-star body are distractions Delaney could do without, but she's determined to stay focused while she brings his budget into line. It's not working.
Beloved by his colleagues and patients alike, Josh is too busy caring for sick kids to talk numbers with the sexy, stiletto-clad Delaney. Every time they talk business, tensions run high…but so does a powerful attraction neither of them can ignore. When an emergency brings Mercy to its knees, Delaney and Josh must work together to save lives. But can they also find a way into each other's hearts?