The Marriage Agenda by Sarah Ballance: Although I don't enjoy watching political wrongdoings unfold in the media, I do enjoy a good love story entangled around a political scandal. Ms. Ballance creates a "feel good" scandal with lots of intrigue and "ah hah" moments that caused me to devour the second half of this book without even taking a break for a simple sip of water.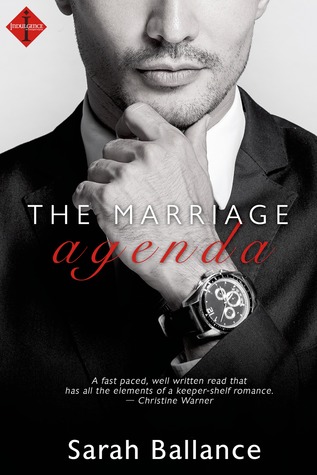 Chloe Lochlan is a reporter for a well respected Washington DC newspaper. Although she works hard, in order to keep her job she needs to pen an amazing article that will rock the nation. About a year a ago, she met and fell in love with Knox Hamilton. When they met, Chloe had no idea that Knox was from one of the most influential families in the area and that his father was a senator. Although they were rarely seen in public together, their relationship blossomed, until one day Knox decided he could never love her or anyone for that matter and broke it off.
In order to go after the senate seat his father recently vacated, Knox needs a wife. He could only think of Chloe for the role, because deep down in his heart, he knows that she is his soul-mate. Although Chloe was devastated by their break-up, she agrees to marry him for the chance to gain information about a hunch she has for a potential story, and because she is still in love with him.
Chloe and Knox are a charming couple, even though their marriage is one of convenience. They care about each other deeply and Ms. Ballance's descriptions of their intimate encounters are not only hot, they are also endearing. I liked them both as individuals and as a couple. Chloe and Knox truly care about each other and their feelings are tangible. I adore the marriage of convenience trope and Ms. Ballance does a good job of evolving it into a loving relationship.
This is a well written book that keeps you engaged from start to finish. The story is nicely paced and the characters are well developed and likeable. The secondary characters are interesting as well, especially Toby, Knox's campaign manager. He comes across as brusque, but I believe he is a real teddy bear at heart. Maybe a book about him and his love life is a possibility.
Book Info:

Publication: August 18th 2014 by Entangled: Indulgence
There's a scandal brewing in Washington…
Knox Hamilton wants his father's recently vacated Senate seat, but the only way his conservative constituents are going to vote for Knox is if he loses his playboy reputation. Which means Knox needs a wife. There's only one woman with whom he's willing to share his life, but after the way he broke things off with her, will she give him another chance?
Chloe Lochlan's job is on the line. If she doesn't grab a big headline, she'll be ousted from her gig at the major newspaper where she works as a reporter. Knox's offer of marriage chills her to the bone. He already crushed her heart once and she has no intention of letting it happen again. But being with him gives her the kind of access to top tier social events rarely granted to media, access that could land her the story of a lifetime. When the truth she uncovers threatens to destroy the man she still loves, will she bury the story…or his career?