Breaking His Rules (Feeling the Heat #4) by Alison Packard is a sweet book that can be read in one sitting, although it is book 4 in the series, this book stood on it's own and I was not confused with the characters or felt like I walked into the middle of a series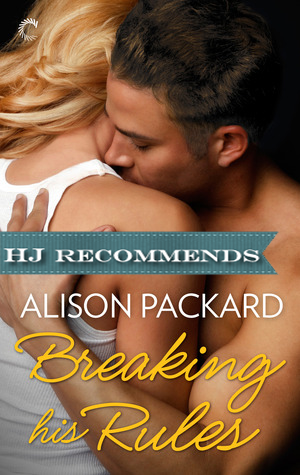 without knowing the back story.
Melissa has always been heavy. Bullied in school, bullied by her cousins friends and her cousin as well, she never felt like she has the courage or strength to stand up for herself. That all changed when she set foot in Jake's Joint, the fitness center and the man himself who helped her find the real her. The man who makes her feel safe, helped her lose 50 pounds and helped her see the potential within herself. Since the day that she set foot in Jake's fitness center and began training with him, she has fallen a little more for the hot, sexy owner. Now she needs a date to take to her cousin's wedding and Jake is the first one to apply the job.
Jake fell hard for Melissa from the minute that she set foot in him place. There is something about her eyes, her shy smile, her determination to make herself healthy and fit that sucks Jake in. Over the 8 months that they have been training, they have formed a strong bond, a friendship that Jake would love to explore further, but he has a strict rule about not dating or getting involved with his clients. When Melissa tells him about her mean cousin's upcoming wedding and how she needs to bring a date to show them all that she is not alone, that she is capable of finding someone who wants to be with her, Jake jumps at the chance.
Now after a HOT kiss and an even HOTTER encounter in the hotel room, Jake and Melissa both realized that their feelings for each other are much more then friendship. But an incident at the wedding could derail their romance before it even has a chance to take root. Running scared, Jake thinks that he needs to decide between having his career and having Melissa. Melissa needs to prove to herself, her friends, her family and most of all Jake that she is not only strong enough to fight for herself, but strong enough to fight for the man that she loves.
I loved Jake and Melissa. They are both very real. The emotions, the fear, the struggles that they had to endure only made them more likable and their relationship more believable. I loved how protective Jake was of Melissa. Even when she proved that she was strong enough to stand on her own, he always had her back, was always there encase she needed him. I loved how their relationship evolved through the story, how they were fighting a loosing battle to keep away from each other. The push/pull of their relationship only added to the flow of the story. Strong characters, and some really funny situations added to this wonderful story with a very sweet HEA!
I recommend this story to any one looking for a sweet one day read with endearing characters. I give this story 5 healthy stars.
Book Info:

September 8th 2014 by Carina Press | (Feeling the Heat #4)
Losing fifty pounds is an incredible achievement. But for Melissa Atherton, progress doesn't come with praise—a scathing comment from an evil cousin at a bridal shower threatens to crush her new self-esteem. Who will she bring to the upcoming wedding? Showing up without a date would be humiliating. It just isn't an option.
Personal trainer Jake Sawyer was attracted to Melissa before she lost weight, but her progress has him floored. When she admits she plans to hire a male escort—and why—his heart all but breaks. Melissa's come too far to be knocked down, especially by her own family. He'll go as her date…and figure out a way to keep his hands to himself.
But when a steamy hotel room encounter takes them both by surprise, Jake balks. He's sworn never to date one of his clients, not again. And Melissa can't bear to be just friends with the man who treated her so tenderly, even if it was only for a weekend. Jake's helped her see she's strong enough to stand up for herself, but will she find the strength to pursue the only man who's ever seen the real her?