Breaking the Drought by Lisa Ireland: A girl from the big city and a country farmer? Could these two even find enough to talk about for an evening, let alone the forever future? However add to the mix a couple country dances, a wildfire, broken leg, burst appendix and the birth of a baby and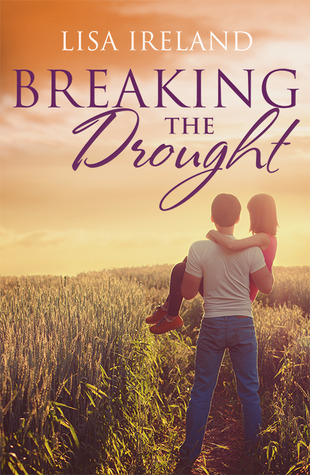 you never know what is going to happen.
I have to tell you, I started to read this novel and wasn't very impressed, then slowly but surely Ms. Ireland started to catch my interest in the depth of her heroine, Jenna. She kept adding more and more to her structure and her character. Jenna became someone who was more than just a silly (or stuffy) city girl, slowly she became this fully formed person whose past shaped her and continued to help form her opinions. Ms. Ireland did a very similar thing to her hero, Luke. Ms. Ireland really helped to create not just a connection between these two but between them and the reader as well.
The story itself began a little slowly but there were enough twists to keep the story moving and interesting. The ending was a bit unexpected in it's presentation but wrapped it up in one of the most complete ways I've read lately. Not to mention it left that feel good feeling in my soul.
Sometimes we are our own harshest critics and sometimes that's necessary but if there is something that Breaking the Drought tells us, it's that when we give ourselves the freedom to love we can see things just a bit more clearly. This is a great feel good novel, perfect for a bit more depth in your HEA.
Book Info:

Published July 1st 2014 by Escape Publishing
When a smooth-talking, sophisticated city girl comes striding into town on her stiletto heels, he's the last person who wants to notice…
When Jenna McLean gets roped into attending a matchmaking ball in a small country town, she holds no illusions of meeting the man of her dreams. A no-nonsense magazine editor, Jenna doesn't believe in leaving love to chance, which is why she's developed Marriage Material – a fool-proof framework for husband hunting. Shearers and farmhands need not apply.
Sheep grazier Luke Tanner has met women like Jenna before, and knows not to waste his time. With the drought dragging on and bushfire season around the corner, the last thing he needs is a spoiled city girl like Jenna adding to his problems. He'll help out with the ball because it's good for the community, but he won't dance, he won't flirt, and he definitely won't be matched.
It's been a long dry season, but everyone knows when it rains, it pours.